CopperGREEN: A Fluorogenic Compound for the Specific Detection of Copper(I) Ions in Living Cells
Copper is one of the trace metals essential for living organisms. Copper is an essential cofactor for enzyme activities of cytochrome c, superoxide dismutase, and tyrosinase. Copper homeostasis plays a crucial role in health or disease.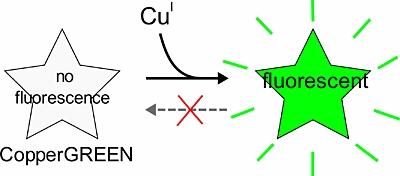 Press Release (ePRNews.com) - GöTTINGEN, Germany - Jun 21, 2017 - Copper binding proteins play important roles in the establishment and maintenance of metal-ion homeostasis, in deficiency disorders with neurological symptoms, and in neurodegenerative diseases.
CopperGREEN, manufactured by Goryo Chemical, Japan, distributed in Europe by MoBiTec GmbH, Germany, is a fluorescent probe to detect copper(I), which is a dominant redox state of copper in an intracellular reducing environment. CopperGREEN is suitable for live cell imaging.
CopperGREEN is a colorless material with intrinsically no fluorescence. When CopperGREEN chelates Cu(I) ions, it is easily hydrolyzed to generate a fluorescent compound with excitation maximum at ~480 nm and emission maximum at ~510 nm. As the reaction is irreversible the fluorescence signal remains after mild fixation.
Features of CopperGREEN:
• High specificity to copper ion: Low reactivity with other trace metal ions and reactive oxygen species (ROS).
• High S/N: Fluorescence increase of >100 times can be observed upon reaction with copper (I) ion.
CopperGRREN is part of Goryo's MetalloFluor™ Series:
• CopperGREEN for specific detection of Cu(I)
• FeRhoNox™-1 for specific detection of Fe2+
• ZnAF-2 for the detection of zinc ions
• ZnAF-2DA for live cell imaging of zinc ions
Next to Goryo's MetalloFluor™ Series MoBiTec offers an extended portfolio of further superior next generation fluorescent probes and research chemicals. Please inquire for details: info@mobitec.com
About MoBiTec GmbH
MoBiTec GmbH (Goettingen, Germany) is a privately held company (founded in 1987) that offers research tools for molecular and cell biology. Products include DNA vectors for cloning and expression, cell transfection reagents and cell culture tools, immobilized and soluble enzymes, products for genomics and proteomics research, numerous antibodies and recombinant proteins, superior fluorescence reagents and kits, affinity chromatography products, as well as general laboratory equipment.
In parallel to its own product lines, MoBiTec distributes products from international companies in Germany. MoBiTec products are distributed worldwide, in Germany from their home office, in other countries by distributors.
Source :
MoBiTec GmbH

Business Info :
MoBiTec GmbH
Lotzestr. 22a
Göttingen, Lower Saxony - 37083 Germany
Phone: +49-551-707220
Website:
http://www.mobitec.com