Covenant Closing & Title Services Under New Ownership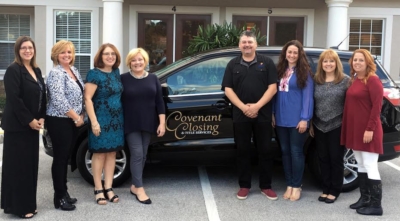 Press Release (ePRNews.com) - PALM COAST, Fla. - Feb 22, 2017 - Jennifer Perez, the new owner of Covenant Closing & Title Services, is pleased to announce that she has recently purchased the company from the former owner Vicky Le Tellier. The firm is hosting a Grand Opening/Customer Appreciation, along with the Flagler County Chamber, on March 17th, 2017 from 5:00pm until 9:00pm. The public is invited and a ribbon cutting will take place at 5:30pm.
"Since 2005, Vicki and her team have done a fantastic job building a solid company foundation," said Jennifer. "We are committed to continuing to provide outstanding service to our customers and we are excited to take the company to the next level," added Jennifer. Jennifer is a former real estate broker and added that she is looking forward to assisting customers from this perspective, and helping realtors develop their businesses by providing them with the tools they need to succeed.
Jennifer is from a small town in Boise, Idaho and said Flagler County reminds her of her hometown. She launched a real estate title research company in 2006 named Indepth Solutions, Inc. She grew the company, starting the firm out of her house in Boise, to employing 20 staff members to date. The company currently serves clients in 23 states. Her goal is to learn the title business and lead day-to-day operations. She has already invested in the staff – adding licensing, furthering their industry knowledge, and enhancing the tools they need so they can efficiently provide support and services to their customers.
"I am blessed beyond belief knowing that Indepth Solutions will take my company to a whole new level," said Vicki. Their vision for the future of Covenant Closing & Title Services and its seven employees will advance it to one of the leading companies in this area. Their innovative vision is perfectly in line with the growth of Flagler County and the timing is perfect. It will be exciting to work with Jennifer as we partner to serve this community," added Vicki. Vicki will continue to work for the company in a title agent capacity.
Covenant Closing & Title employs ten staff members, hiring one since the company was purchased. The management team is comprised of Jennifer Perez, President, Ralph Perez (Jennifer's father), Vice President of Business Development, Becky Carr VP of Operations, and J. Taitingfong, VP of Process and Information. The company's goal is to improve processes and service levels. One unique service they offer is mobile signing services. This service includes a representative from Covenant Closing & Title meeting a borrower when they are ready to close wherever is convenient for them via their mobile vehicle.
The company is located at 4879 Palm Coast Parkway NW, Suite 4 in Palm Coast. They can be reached at 386-986-4623, or online at www.CovenantClosing.com.
Pictured left to right: Andrea O'Connor, Susan Flanagan, Margie Simmons, Becky Carr, Ralph Perez, Jennifer Perez, Beverly Ashforth and Beth Hartopp.
Source :
Covenant Closing & Title