Cross-border online purchasing makes further advancements in Europe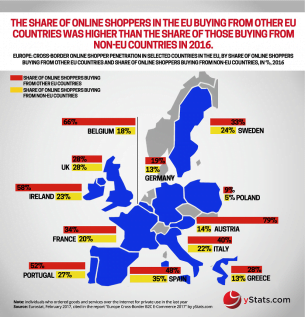 Press Release (ePRNews.com) - HAMBURG, Germany - Mar 20, 2017 - This report from yStats.com contains a projection that by 2020, cross-border B2C E-Commerce sales in Europe will raise by double-digit figures. Eastern Europe is expected to outpace Western Europe by growth rate, but trail behind in terms of market size.
yStats.com also cites statistics revealing that European consumers tend to make online purchases within this region instead of purchases elsewhere. Notably, online consumers who make purchases from other EU countries have a share that is over 1.5 times higher than the share of consumers making online purchases outside the EU. The European Commission introduced multiple legislative initiatives in 2016 to help advance this trend.
Furthermore, yStats.com's market report cites double-digit growth amongst cross-border E-Commerce imports in Russia. What's more, over half of cross-border online spending, as well as a larger share of number of purchases by Russian online shoppers, are completed through Chinese marketplaces. In both areas, EU countries come in second.
For further information, see: https://www.ystats.com/wp-content/uploads/2017/02/2017010…
Press Contact:
yStats.com GmbH & Co. KG
Behringstrasse 28a, D-22765 Hamburg
Phone: +49 (0)40 – 39 90 68 50
Fax: +49 (0)40 – 39 90 68 51
E-Mail: press@ystats.com
Internet: www.ystats.com
Twitter: www.twitter.com/ystats
LinkedIn: www.linkedin.com/company/ystats
Facebook: www.facebook.com/ystats
About yStats.com
Founded in 2005 and headquartered in Hamburg, Germany, yStats.com is one of the world's leading secondary market research companies. We are committed to providing the most up-to-date and objective data on Global B2C E-Commerce and Online Payment markets to sector-leading companies worldwide.
Our multilingual staff researches, gathers, filters and translates information from thousands of reputable sources to synthesize accurate and timely reports in our areas of expertise, covering more than 100 countries and all global regions. Our market reports focus predominantly on online retail and payments, but also cover a broad range of related topics including M-Commerce, Cross-Border E-Commerce, E-Commerce Delivery, Online Gaming and many others. In addition to our wide selection of market reports, we also provide custom market research services.
We are proud to cooperate with companies like Bloomberg and Thomson Reuters. Given our numerous citations in leading media sources and journals worldwide, including Forbes and the Wall Street Journal, we are considered one of the most highly-reputed international secondary market research companies with an expertise in the areas of B2C E-Commerce and Online Payment.
Source :
yStats.com