yStats.com: Cross-border B2C E-Commerce to increase its share of the global online retail market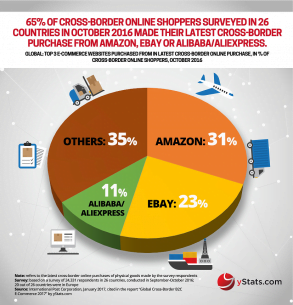 Press Release (ePRNews.com) - HAMBURG, Germany - Feb 20, 2017 - More than 50% of global online shoppers buy from E-Commerce sellers in other countries. This is a finding of several consumer surveys conducted across the globe in 2016 and cited in this market report by yStats.com. Their primary motivation is to find better prices, but also to reach products of a better quality or items not available in their own country. Clothes, consumer electronics, books and other media products rank as the categories with highest demand in global cross-border E-Commerce.
Delivery and shipping costs are the main concern preventing more online shoppers from making purchases from out-of-country sellers, according to another survey cited in the yStats.com's publication. Third-party research shows that in 2016 more than one-half of shoppers received free delivery on their latest cross-border online purchase. When it comes to choosing payment methods, cross-border online shoppers consider service fees and purchase value and tend to use credit card and E-Wallets more than other payment means.
Countries such as the USA, China, and the UK are the top destinations for cross-border online shoppers. Furthermore, yStats.com's research reveals a clear trend in favor of intra-regional trade, especially in Europe and North America. Large E-Commerce marketplaces in these countries are among the major winners of the cross-border growth: in 2016, nearly two-thirds of cross-border online shoppers made their latest international purchase from Amazon, eBay, AliExpress or Alibaba.
For further information, see: https://www.ystats.com/wp-content/uploads/2017/02/2017010…
Press Contact:
yStats.com GmbH & Co. KG
Behringstrasse 28a, D-22765 Hamburg
Phone: +49 (0)40 – 39 90 68 50
Fax: +49 (0)40 – 39 90 68 51
E-Mail: press@ystats.com
Internet: www.ystats.com
Twitter: www.twitter.com/ystats
LinkedIn: www.linkedin.com/company/ystats
Facebook: www.facebook.com/ystats
Source :
yStats.com