Data-as- a-Service – The Latest Tech Trend in B2B Marketing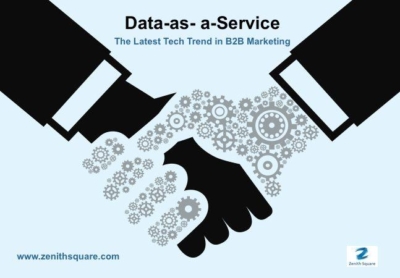 Press Release (ePRNews.com) - MANHATTAN, N.Y. - Apr 17, 2017 - Data-as-a-Service is the latest tech trend in B2B marketing. The optimism is substantial with the industry eco system's promising intent to promote economic growth through technology and digital avenues, as well as a significant shift in the mindset of users. This demands data science innovation at every step, and this is exactly what continues to anchor us.
At Zenith Square, we have a renewed focus on empowering people and organizations to excel in this data-cloud-mobile world by reinventing sales and marketing productivity and providing exciting new data platforms for leveraging marketing campaigns. Our commitment to improving sales revenue performance and marketing productivity revolves around providing the right data tools and sales intelligence platforms to help B2B technology marketers to make the most out of any campaigns.
Data-as-a-Service platform for B2B Marketers: Our commitment to enabling companies and marketers to design data-driven campaigns, identify sales leads, win deals and grow market share, has led us to embrace data innovation. Our data-as-a-service platform has more data, more insights, more relevancy and highest accuracy than any other marketing data cloud platform in the world.
By eliminating repeated list purchase investments and through cost savings on data subscription flexibility with guaranteed accuracy, we see Data-as-a-Service platform propelling the growth of enterprises, start-ups, and SMBs. Today, our platform address the marketing requirements of a diverse range of industry verticals and business segments such as Sales, Marketing, CRM, and Analytics.
Endless possibilities: With increased focus on growing SMBs, promoting entrepreneurship, Data science and 'Digital World' promise endless possibilities. We are committed to modern marketing data science and inspired by the evolving Big Data technologies. As the industry comes together to help realize this vision with new technologies, we firmly believe that one such technology is the Data-as-a-Service platform. This technology can offer cost-friendly, accessible and insight driven data to marketers, delivering the much-needed on-going data accuracy maintenance support.
Visit us at http://www.zenithsquare.com today!
Email: enquiry@zenithsquare.com, +1 (212) 203 0267
Source :
Zenith Square