DCS Releases 3DCS for NX, Tolerance Analysis Software
Dimensional Control Systems has partnered with Siemens to fully integrate 3DCS Variation Analyst software into Siemens' NX software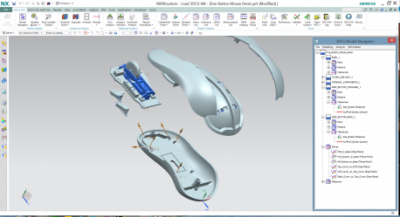 Press Release (ePRNews.com) - TROY, Mich. - May 09, 2017 - Dimensional Control Systems is announcing the full production release of 3DCS for NX™ software, a fully integrated tolerance and variation analysis software for NX, the flagship computer-aided design, manufacturing and engineering (CAD/CAM/CAE) solution from Siemens' product lifecycle management (PLM) software business. This new integration gives 3DCS users the ability to utilize NX applications and functions such as visualization, Geometric Dimensioning and Tolerancing (GD&T), Product and Manufacturing Information (PMI) data and modeling processes.
As the standard for variation analysis software across the automotive and aerospace industries, 3DCS offers powerful tools for engineers and designers to simulate their products assembly process and 3D tolerance stack-up to reduce scrap and rework as well as quality issues that could lead to warranty and liability claims.
By bringing 3DCS into the NX environment, users can take advantage of the tools that come with using the NX platform. This includes the ability to use new parts and models from NX CAD to quickly update variation models, as well as control these revisions and models within Siemens' Teamcenter® portfolio, the world's most widely used digital lifecycle management system.
"The integration of 3DCS for NX into the NX CAD platform is an important development for DCS," said Donald Jasurda, DCS Vice President. "Manufacturers see the benefit of using an integrated solution for variation analysis, and are all moving in this direction. The use of integrated tools increases modeling efficiency and allows the CAD platform's inherent functionality to cross over into the 3DCS software suite."
"As CAD technology continues to advance to include greater levels of analysis, our open API strategy allows us to support the incorporation of tools like 3DCS software to keep up with the growing demands of customers," said Bob Haubrock, Vice President, Product Engineering Software, Siemens PLM Software. "The partnership between Siemens and DCS will allow an integrated environment, giving NX users access to advanced analysis as part of the CAD environment."
Learn more at http://www.3dcs.com/tolerance-analysis-software-and-spc-s….
About DCS
DCS has been supporting quality management in industries including automotive, aerospace, medical device, electronics and industrial machinery for over 20 years. DCS solutions are used daily by companies like Airbus, BMW, GM, LG, Nissan, Phillips, Sony, Textron Aviation and VW. By applying DCS's 3D Model Based environment for Predictive Variation Analysis and Responsive SPC, manufacturers have reduced quality costs related to yield, scrap, rework and warranty issues. Read more at www.3dcs.com.
Legal note: NX and Teamcenter are trademarks or registered trademarks of Siemens Product Lifecycle Management Software Inc. or its subsidiaries in the United States and in other countries.
Source :
Dimensional Control Systems, Inc.