Don & Low Develops Next Generation Compost Cover Fabric
Windrow TX®: Redefining the Benchmark for Lightweight and Durable Open Windrow Compost Covers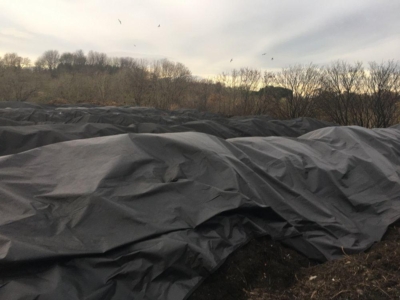 Press Release (ePRNews.com) - FORFAR, Scotland - Jun 20, 2017 - Don & Low Ltd, a Scottish technical textiles manufacturer, announced today the launch of its next generation compost cover textile – Windrow TX®. The new fabric was designed and created as a result of a recent study conducted by the James Hutton Institute (JHI), which highlighted the need for lightweight and breathable compost covers on open windrow installations — particularly for odour control at sites close to urbanisation.
Specifically designed to maximise breathability and durability, the polypropylene (PP) and UV stabilised nonwoven fabric minimises the critical dimension of weight. At 150g/m2, Windrow TX® is less than a third of the weight of conventional compost covers, providing the compost industry with the latest generation of breathable covers for open windrow installations.
Windrow TX® provides open windrow sites with greater ease of use, as it can be managed by one person whilst maintaining the same protection characteristics as traditional, heavier weighted compost cover fabrics. The lightweight textile also excels in odour reduction, increased compost yield and durability.
To quantify the effectiveness and additional benefits of using Windrow TX®, a trial was carried out at the Forth Resource Management (FRM) composting site in partnership with the James Hutton Institute.
Tommy Dale, FRM Managing Director, stated, "If it hadn't been for the covers, we [Forth Resource Management] would have found it difficult to keep composting substantial volumes at the Braehead site".
Choosing the right open windrow cover is vital to reduce odour, dust and bio-aerosols; as well as providing the right protection from the drying effects of the sun and the wind, and waterlogging from the rain and snow. Windrow TX® can provide this type of protection for open windrow installations.
Developed for use in a single layer cover, Windrow TX® offersa physical barrier against the release of dust and bioaerosols, whilst allowing the windrow to breathe. Externally the lightweight cover also provides protection against birds and insects.
Fully recyclable and with enhanced odour reduction capabilities, Windrow TX® is a lightweight and cost-effective solution which aids compliance with SEPA (Scottish Environment Protection Agency) BAT (best available technique).
For more information visit: http://www.donlow.co.uk/
Source :
Don & Low Ltd.

Business Info :
Don & Low Ltd.
Don & Low Ltd. Newfordpark House Glamis Road
Forfar, Angus - DD8 1FR Scotland
Phone: +44 1307 452200
Website:
http://www.donlow.co.uk