Euro Fashion Inners launches fluorescent underwear under the label Micra Flash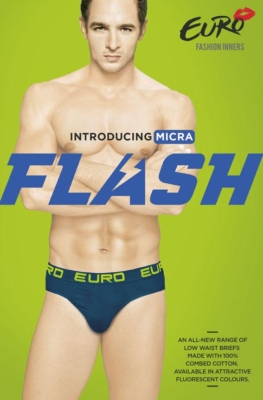 Press Release (ePRNews.com) - KOLKATA, India - Aug 30, 2016 - Euro Fashion Inners announced the launch of its sub brand, Micra Flash. Euro Fashions, as it is popularly called, is a premium innerwear brand from the House of Rupa, India's leading innerwear brand since 1968.
Micra Flash is a brand new offering from Euro that delivers superior comfort using ultra soft fabric and comfort enhancing double breathable knit. The briefs are made of 100% combed cotton fabric, which is breathable, gentle on the skin and does not cause irritation.
Flash briefs are specially processed for shrinkage control and long lasting shape. They are much more durable and feature trendy body hugging cuts to reveal superior body shape. The briefs also come with reinforced stitching that helps the product maintain its original shape throughout its life.
"Euro Fashion Inners aims to deliver innovative products driven by consumer demand for superior comfort and durability. The brand strives to remain true to its promise of providing quality innerwear through the launch of Micra Flash, which is a high-quality and advanced brief providing comfort and style in one package." says Euro Fashions Brand President, Mr Rajnish Agarwal.
In addition to comfort, Micra Flash is also skewed towards contemporary style and fashion. The range presents designer low waist briefs with fluorescent waist bands, which are much in trend these days, especially popular among the young and stylish men who aspire to be the style icons.
Micra Flash briefs are available in different sizes in attractive fluorescent colours.
About Euro Fashion Inners:
Euro Fashion Inners is a brand of choice for the sexy and fashionable. It is an emerging brand in the premier innerwear segment with an ever growing client base.
Euro Fashion Inners Online: Eurofashions.in (http://eurofashions.in/?utm_source=content&utm_medium…)
Euro Fashion Inners Social: Euro Fashions (https://www.facebook.com/EuroFashions/?ref=bookmarks) (Facebook); @Euro_Fashions (https://twitter.com/Euro_Fashions) (Twitter)
About Rupa and Company Limited:
Rupa and Company Limited is one the largest knitwear brands in India engaged in the manufacturing, branding and marketing of innerwear and casual wear for men and women. The Company was established in 1968 as Binod Hosiery, and today it is one of the leading players in Indian Knitwear Industry and holds the 'Limca Book of Records' for being the largest inner wear & casual wear manufacturing company in India for 11 consecutive years.
Among the prominent awards won by the Company are Worldwide Achievers Business Leadership Award (2013-14), Time Research Business Leadership Awards for Branch Excellence in Innerwear (2013), and Global awards for Brand Excellence by World Brand Congress during the year 2010. Recently, the Company has been selected as the Best Corporate Brand 2016 by The Economic Times of India.
Rupa Corporate: http://rupa.co.in/
Contact info:
Rimmy Sett Banerjee
Rupa & Company Limited
1, Ho Chi Minh Sarani, Metro Tower, Kolkata – 700071
Tel: +91 33 3057 3100 / 3186 | Email: srexe.dpc@rupa.co.in
Source :
Rupa & Co. Ltd.