Forever Living Creates a New Paradigm in Skin Care With Its Aloe Vera Products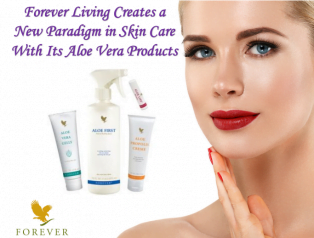 Press Release (ePRNews.com) - ILLFORD, UAE - Feb 15, 2017 - Known for developing and distributing effective personal care, beauty and weight management products using scientifically proven ingredients, Energies Forever has now set a new paradigm in skin care with its aloe vera products. Combining modern science with natural ingredients, Energies Forever's extensive range of aloe vera skin care products include Cleanser, Moisturizer, Sunscreen, Exfoliator, Refreshing Toner and More.
Offering the best personal care and skin care products based on Aloe Vera at the most affordable cost, Energies Forever's aloe vera skin care products are sure to show great results. If you have been suffering from skin complications like rashes, clog pore, swellings, irritations and sunburns, you can get rid of all that with aloe vera for skin. Aloe vera is a great natural element known for soothing and beautifying the skin, giving you a fresh and rejuvenated feeling. The initial roll-out includes following skin care products:
1. Forever Aloe Scrub® – Containing effective combination of stabilized aloe vera gel and solid micro-spheres from pure jojoba oil, Forever Aloe Scrub is the natural exfoliator for the face and body.
2. Aloe Sunscreen – Aloe Sunscreen has high SPF and blocks both UVA and UVB rays. It helps to soothe, moisturize and protect the skin against sun damage.
3. Aloe Fleur de Jouvence® Aloe Cleanser – Aloe Cleanser contains hypo-allergenic ingredients, perfect for removing makeup, dirt, and other invisible skin debris.
4. Aloe Fleur de Jouvence® Aloe Activator – Aloe Activator is a superb moisturizing agent, containing enzymes, amino acids and polysaccharides.
5. Aloe Bath Gelée – This Aloe Bath is a moisturizing bath and shower gel, containing herbal extracts designed to relax and refresh the body.
6. R³ Factor® – R3 Factor® Skin Defense Creme contains a rich combination of stabilized Aloe Vera gel, soluble collagen and alpha-hydroxy acid that will provide you healthy skin.
Mansoor Ahmad, business owner of Energies Forever, said, "We are very excited to announce our innovative Aloe Vera Skin Care Products that will help customers get healthy, glowing skin, and natural benefits of aloe vera. They will love seeing radiant skin after using Forever Living Products."
Energies Forever is dedicated to being a manufacturer and distributor of holistic beauty treatments, personal care products, weight management and nutrition products to help customers live a healthy life. Energies Forever's latest line of skin care products and other personal care products based on aloe vera will leave your skin & body feeling smooth, moisturized, refreshed, and rejuvenated.
For complete information, please visit: http://energiesforever.com/products/
About Energies Forever
Energies Forever is a multi-level marketing company that spans the globe with over 8.5 million distributors, operating in over 145 countries and generating more than 2 billion dollars in sales annually. FOREVER LIVING's offers exclusive line of health and beauty products for nutrition, skin care, weight management, personal care and cosmetics. The company and its affiliates are the largest manufacturers and distributors of aloe vera products in the world.
Contact Information
Address:
233 Eton Road, IG1 2UH
Illford, United Kingdom
Media Contact:
Phone: +44 7577118180
Email: care@energiesforever.com
Source :
Energies Forever