Strea now becomes ReVibra – The rebranding of topical vitamin creams from Dr. Reddy's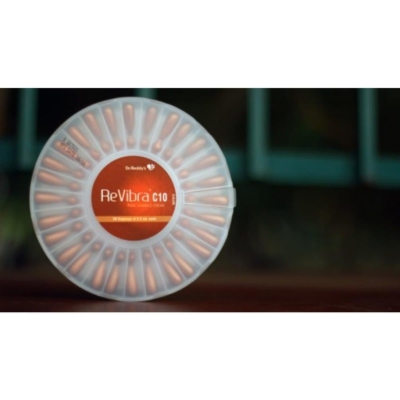 Press Release (ePRNews.com) - BANGALORE, India - Nov 07, 2016 - Dr. Reddy's Laboratories Ltd. has recently announced the release of their updated topical vitamin creams ReVibra C10 and ReVibra A15. Previously referred to as Strea C10 and A15, these variants are the world's purest form of vitamin products for human skin.
Dr. Reddy's Laboratories is one of the top pharmaceutical giants in India with their products being marketed in several countries in the world. They started out with active pharmaceutical products and owing to the demand of non invasive skin care treatments, moved on to cosmeceuticals.
For long, the human population has tried several ways to maintain a young looking, vibrant skin tone. Using vitamins for skin care has been a largely researched and proven topic of interest. The main reason for aged skin, according to most skin experts is the effect of free radicals from the atmosphere. They mention that these free radicals damage the skin cells, ageing them earlier than usual. The signs of prematured ageing of skin are wrinkles, fine lines, crow's feet, pigmentation, dark spots and dull skin.
Genetics, over exposure to UV radiations from the sun, lifestyle changes, pollution and stress are other mentioned reasons for damaged, dull skin. With a frantic lifestyle and work-life imbalance, dermatologists warn that most youngsters are at a risk of prematured ageing of skin at present and in the future.
Pure vitamin products, when applied directly on damaged skin helps reverse such conditions and postpone the signs of ageing. This is the idea behind Dr. Reddy's ReVibra products. Strea C10 and Strea A15 were the initial vitamin range of products of Dr. Reddy's and now they have made a reentry with a new, attractive brand name called ReVibra.
ReVibra C10 is a 10% pure vitamin C product while ReVibra A15 is a 0.15% pure retinol solution. The main challenge topical vitamin manufacturers usually face is maintaining the stability of the product. Both air and light can damage its effectiveness and render the product useless.
ReVibra C10 and A15 come in individual packaging units called vegicaps measuring 0.5 ml each. The amount is perfect for one time usage and this packaging, says Dr. Reddy's team, is perfect to maintain their bioactive nature and preserve the purity and stability of the cream. They also state that this is the only brand that markets these vitamins in individual dosages.
According to Dr. Reddy's team of skin care experts, the packaging play a great role in improving the effects of these vitamin creams. It ensures the result is faster and more intense than other products in the market. ReVibra C10 and A15 help balance out dark spots, reduce pigmentation, even out crow's feet, wrinkles and make the skin vibrant, healthy and firm. They keep protecting the skin from free radicals, promoting healthy growth of skin cells.
"We have seen a considerable increase in the number of users switching over to topical vitamin creams in the last few years now. There is a strong user base for Strea products and we are sure this will increase after the rebranding now", says the marketing head of www.clickoncare.com, an online e-commerce market place that sells health, wellness and beauty based products in India.
Dr. Reddy's Laboratories have planned for an extensive promotion for both these variants and they believe that it would push more people to consider non invasive skin care treatments that are safer and are cost effective. ReVibra is available in top drug and cosmetic stores and online shopping websites, including ClickOnCare all over India.
Source :
clickoncare.com

Business Info :
2014
#23, ClickOnCare.com, ClickOnCare Retail Private Limited, Thaverekere Main Road, Bangalore, Karnataka - India - 560029
Bangalore, Karnataka - 560029 India
Phone: 080-42190440
Website:
http://www.clickoncare.com