Visual Paradigm Announces the Release of Visual Paradigm 14.1
Visual Paradigm 14.1 features a huge set of exciting new features for EA analysts, project managers and software developers to manage complexity and remain competitive for their organizations in this fast changing digital world.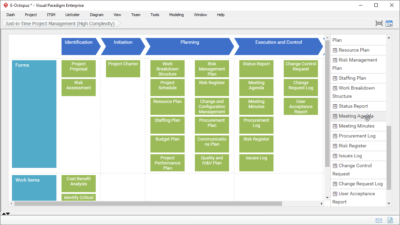 Press Release (ePRNews.com) - May 18, 2017 - Main New Feature highlight:
– Guide-through process with step-by-step instructions, samples and required tools for incremental deliverable development
– Provide out-of-the box TOGAF and Project Management Templates
– Customizable and Configurable Just-in-Time process composer that lets you touch-up and modify the predefined project templates (such as, PMBOK, TOGAF and etc.), or define your new process for fitting your specific needs.
– Out-of-the-box work item gallery lets you compose a custom process with reusable forms and work items.
– Enhanced Scrum process lets you groom your product backlog with Story Map and automate the estimation of user stories with Affinity Table.
– Diagrams over the cloud allows you to draw diagram with zero configuration and you can import them back to the desktop application for performing enterprise scale visual modeling.
There are many more great features or enhancements bundled with Visual Paradigm 14.1. Come and learn more about it now!
About Visual Paradigm International
Visual Paradigm International is a leading provider of software solutions that enables organizations to develop quality applications faster, better and cheaper. Visual Paradigm is dedicated to continually develop and deliver software, services and partnerships to help customers to accurately transform their system requirements into high-quality software solutions, all with minimum risk and maximum return on investment.
To know more about Visual Paradigm 14.1, visit http://www.visual-paradigm.com/whats-new/
Source :
Visual Paradigm Ltd.