QUBE ART Gallery Brings USA's Breathing Color® Advanced Inkjet Media to UAE
Dubai, UAE: QUBE ART Gallery, a Dubai-based Giclee printing company which specialises in canvas printing, fine art reproduction, photographic printing and artwork framing, brings Breathing Color® Advanced Inkjet Media to UAE.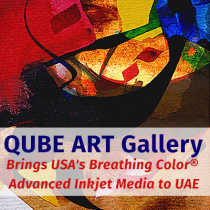 Press Release (ePRNews.com) - JLT, UAE - Jan 18, 2017 - With its ongoing commitment to excellence and innovation in printing service, QUBE ART Gallery now provides professional photo printing and fine art printing services in Dubai on high quality Breathing Color® Canvas and Papers.
Breathing Color® is a leading supplier of award-winning digital inkjet canvas, papers, and canvas coatings in the USA. Using highly scientific approach, Breathing Color offers a wide range of color, substrates, coatings and equipment for art and photographic industry. QUBE ART Gallery provides pigment based exceptional quality printing on Breathing Color canvas and papers using their wide format inkjet printers.
Breathing Color Canvas and Papers capture minute details in your images and artworks, thus imbibing the originality of paintings, photographs, and art works. These high quality canvas and papers assure incredible resolution, eye-popping color gamut & Dmax, producing stunningly vivid images. QUBE ART Gallery is equipped with high-end printers and finest accessories to render high quality prints for hotel and villa projects. QUBE ART Gallery surpasses other printing companies in Dubai with state-of-the-art printing equipment, superb quality Breathing Color materials, impeccable customer service, and affordable pricing.
• QUBE ART Canvas Printing Services: QUBE ART Gallery prints your best photos and artworks on high quality Breathing Color® Lyve matte canvas. This canvas has eye-popping color gamut and Dmax, along with critical archival certification that sets new standard of exceptionalism in Canvas printing.
• QUBE ART Fine Art Printing Services: They provide Fine Art Prints on Breathing Color® Fine Art papers that look luxurious and authentic. Their proprietary inkjet receptive coating and exceptional quality Fine Art papers produce extremely crisp and accurate details of your fine arts.
• QUBE ART Photographic Printing: QUBE ART Gallery uses Breathing Color® Vibrance Photo Papers for its photographic printing services. These quality Photo Papers and QUBE ART's cockle-free RC base give the print a true photographic feel.
• QUBE ART Print on Aluminium Sheet (ALLURE): Hobby photographers and semi-professionals now can present their best work in a new better way at an affordable price. QUBE ART offers high quality prints on Aluminium sheets called Allure Photo Panels, which is a new product from Breathing Color®.
A representative from the PR Department of QUBE ART Gallery stated, "We believe in quality and perfection. Be it a small or large project, we utilize the latest in print technologies, industry leading color calibration equipment and the highest quality Breathing Color® paper and canvas in our canvas and fine arts printing services." He further added, "Our client can rest assured they will only get the best quality print service at competitive prices."
To know more about the Breathing Color paper and canvas printing services offered by QUBE ART Gallery, please visit http://www.qubeartgallery.com/services.html
About QUBE ART Gallery
QUBE ART Gallery is a Dubai-based giclee printing company that specialises in fine art reproduction, photographic printing and artwork framing. It works as Art Consultants for hotel and villa projects in collaboration with leading interior designers and artists in this region. They have highly talented team art consultants, designers and artists who strive hard to serve clients with utmost satisfaction. The company provides pigment based high quality printing on the best quality Breathing Color® canvas and papers using their wide format inkjet printers. They also have a good collection of traditional, modern and elegant artwork frames. They have flexibility to fulfill the diverse needs of their customers and continually push the boundaries of innovation in pursuit of finer print quality.
Contact Information
Address:
Shop 06, England X19 Cluster
International City, Warsan
Dubai, UAE
Phone: +971 4 264 1660 / +971 4 557 3390
Email: shop@qubeartgallery.com
Website: http://www.qubeartgallery.com
Source :
Qube Art Gallery