UES Launches their Newest Product – Robo-Met.QC™
New Product Automates Metallography Quality Control of Thermal Spray Coatings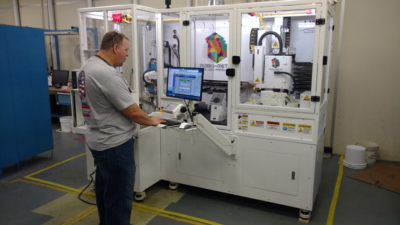 Press Release (ePRNews.com) - DAYTON, Ohio - Jun 27, 2017 - UES, Inc., a Science and Technology firm, is happy to announce the first shipment of their newest product, Robo-Met.QC™ to Tinker Air Force Base in Oklahoma.
The Robo-Met.QC system provides for consistent, rapid, and automated quality control of thermal spray coatings, used by Air Force Sustainment Complexes in MRO operations. The system Improves throughput, efficiency and consistency of the metallography process, and enhances platform uptime for availability to Warfighters. UES is currently building the next two systems, for installation at Hill and Warner Robbins AFBs. An offshoot of UES' flagship Robo-Met.3D® product, the new system represents another AFRL Technology Transition success.
"By enabling automated evaluation of coatings applied to various components, our system allows for more samples to be analyzed within a shorter time." says Rhoel Ramos, Program Manager. "If I can get repeatable and accurate metallography completed on my coatings in about one to two hours, that's a valuable time saving to any spray shop." Current manual or semi-automated processes can take all day, or in some cases, days to complete.
Mr. Thomas Grijalva, Lead Engineer, Integrity Engineering Sustainment Section, has championed the effort to bring the Robo-Met.QC technology to the government at the Tinker, Hill and Warner-Robbins Sustainment Complexes. He will lead the installation, adoption and use of this technology for evaluations of thermal spray coatings used in MRO operations.
UES' flagship Robo-Met technology is an offshoot of AF/DoD SBIR development projects, and is a source of commercialization revenue to AFRL. Many SBIR/STTR programs feature creative ideas. Some programs successfully commercialize these ideas, resulting in innovations such as Robo-Met.3D. UES has taken this commercialization story to the next level, through the Rapid Innovation Fund (RIF) program, into a Technology Transition Success.
"We are grateful to our customers and aerospace industry stakeholders for guidance, and encouragement along the way" adds Veeraraghavan Sundar, Manager of Emerging Products. "A technology platform originating in AFRL/RX now has a place in an ALC. Achieving delivery of a product to a customer, is a proud milestone for us."
About UES Inc:
Founded in 1973, UES, Inc. is an innovative science and technology company that provides its government and industry customers with superior research and development expertise and world-class support. We take great pride in developing products and services from our technologies for commercialization and transition.
Please contact us at Ph: (US) 937.426.6900, Fax (US) 937.429.5413.
UES Inc., 4401 Dayton-Xenia Rd., Dayton, OH 45432-1894,
Visit us at www.ues.com Email: info@ues.com
Source :
UES Inc.