Micro-Measurements Introduces Pre-attached Teflon Leadwire Option for High-Temp Stress Analysis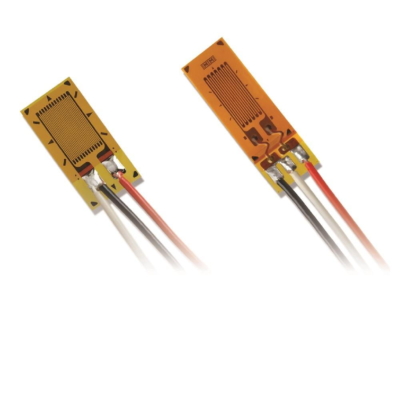 Press Release (ePRNews.com) - MALVERN, Pa. - May 31, 2017 - The Micro-Measurements® brand of Vishay Precision Group, Inc., industry innovators in the design, development and manufacture of resistive-foil sensors for high-precision strain measurements, today announced a new, optional pre-attached Teflon leadwire for its CEA- and WK-series strain gages, Option SP35, in support of high-temperature stress analysis requirements to +400°F (+204°C).
A key benefit in the specification of pre-cabled gages for stress analysis is their efficiency during installation. With this new option, Micro-Measurements has extended this benefit into higher application temperatures. New Option SP35 includes ten feet (three meters) of 30-AWG, twisted, etched Teflon leadwires (330-FTE). The etching ensures that any protective coatings applied over the installation will bond and seal to the cable. Gage leadwires are pre-attached via solder to the CEA- and WK-series strain gages, allowing them to support specific requirements to +350°F (+177°C) and +400°F (+204°C), respectively. Their three-wire quarter bridge configuration cancels any potential cable thermal output which may occur in response to temperature changes.
Option SP35 is ideal for the support of higher temperature stress analyses of automotive and aerospace components, or of any other structural material. It is particularly useful for higher temperature composite materials testing, eliminating the need for soldering on the test article, and thus the possibility of heat damage to sensitive surfaces. In addition, Option SP35 has no impact on strain gage resistance tolerance or strain range specifications, allowing for continued seamless integration into the application environment. At the same time, it offers a viable leadwire solution with simplified installation requirements. With these combined features, Option SP35 now allows a customer to specify both Micro-Measurements CEA- and WK-series strain gages into an expanded number of higher temperature applications, particularly those where the limitations of traditional pre-gaged vinyl insulated cabling had previously limited their use.
About Micro-Measurements®
Micro-Measurements, a Vishay Precision Group, Inc. (VPG) brand, is dedicated to the development, manufacture, and marketing of resistive-foil sensors for high-precision strain measurement. Micro-Measurements offers a full complement of strain gages, PhotoStress® equipment and coatings, data acquisition systems, and supplies necessary to obtain accurate, reliable stress data. Our products are used throughout the industrialized world — both in the practice of stress measurements analysis and as the sensing elements in a wide variety of transducers for measuring physical variables (weight, force, torque, pressure, etc.).
About VPG
Vishay Precision Group, Inc. is an internationally recognized designer, manufacturer and marketer of: components based on its resistive foil technology; sensors; and sensor-based systems specializing in the growing markets of stress, force, weight, pressure, and current measurements. VPG is a market leader of foil technology products, providing ongoing technology innovations in precision foil resistors and foil strain gages, which are the foundation of the company's force sensors products and its weighing and control systems. The product portfolio consists of a variety of well-established brand names recognized for precision and quality in the marketplace. To learn more, visit VPG at www.vpgsensors.com.
Micro-Measurements and PhotoStress are registered trademarks of VPG.
Source :
Micro-Measurements brand of Vishay Precision Group