Busway Solutions Introduces New Tap-Off Box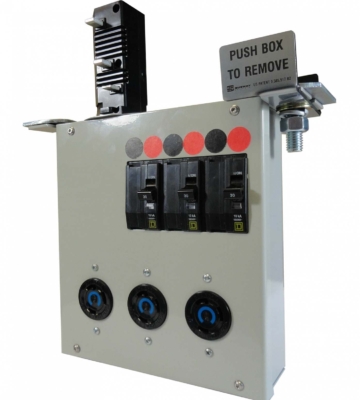 Press Release (ePRNews.com) - MINNETONKA, Minn. - Feb 23, 2017 - PDU Cables is happy to announce it has undertaken exclusive distribution of Busway Solutions tap-off boxes. Busway Solutions has designed a safer and superior tap-off box to the standard OEM plug-in's offered for Starline's T5 series busway track system. Fully compatible with any of the 250, 400, 800 and 1200 amp T5 series systems.
Tap-off box masts have always been a common culprit in busway track system failures. The Busway Solutions product improvement redesign resolved these and other manufacturing weaknesses resulting in a tap-off box that delivers a more robust, safe and secure fault free load delivery.
The re-engineered plug mast with larger paddle surface area, has been designed for increased safety, superior performance and easier installation. The internal conductors have been upgraded to #8 AWG on all boxes, with a #6 AWG wiring option for high density and multi-circuit applications.
Better connections decrease resistance which lowers the conductor temps and reduces the risk of shorts, faults, failure, and outages. While visually you'd be hard-pressed to tell the difference between the Busway Solutions tap-off boxes from other tap-off boxes, significant improvements in design and quality of materials have resulted in a patented, ETL approved tap-off box that sets a new industry standard for excellence.
Each Busway Solutions tap-off box comes standard with two mounting taps for securer attachment along with the patented inhibitor (mounting alignment bracket) to assure proper installation and de-installation.
Certified compliant by ETL to UL 857, and offered with a limited two-year warranty, Busway Solutions tap-off boxes are custom built to each application and offer utility grade metering as a factory direct add-on option.
For more information about these new tap-off boxes, visit http://www.pducables.com/products/tap-off-boxes or call (866) 631-4238.
About PDU Cables
PDU Cables manufactures and distributes power-distribution cable assemblies used by more than 5,000 data centers in North America. Known for its industry-leading innovation, PDU Cables was the first independent cable-assembly company to introduce colored conduit, to acquire UL Listing, and to offer the Power Cable and Equipment Configurator™ for documenting connections and specifying the correct power cables. Electrical contractors install PDU Cables' pre-fabricated UL-listed cable assemblies to save time and labor, and reduce overall project costs. The company is the exclusive supplier of the AirGuardâ Cable Seal product line. AirGuard is a trademark of Custom Plastic Distributors, Inc.
Source :
PDU Cables

Business Info :
PDU Cables
5401 Smetana Drive
Minnetonka, Minnesota - 55343 United States
Phone: 1-866-631-4238
Website:
http://www.pducables.com