Austin Healey Performance Overdrive Parts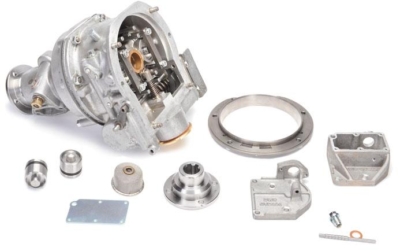 Press Release (ePRNews.com) - BURTON ON TRENT, England - Feb 15, 2017 - Many Austin Healey's are fitted with an Laycock de Normanville A-Type overdrive on the back of the gearbox which provides an extra ratio available in 3rd and 4th gears, operated by flicking a dash or gearstick mounted switch. This in effect provide the driver with 6 speeds to choose from, aiding performance on the track and also lowering engine revs for quieter and more economical cruising on road cars.
Performance and Competition drivers often find that the original overdrive is simply not up to the job and can be slow or troublesome. Denis Welch Motorsport has developed a range of up-rated overdrive parts suitable for Austin Healey cars to improve the performance and reliability of the unit. These parts have been proven under tough, racing conditions.
Up-rated Accumulator Piston and Springs
Faster and smoother gear changes can reward the driver with faster lap times. As standard the overdrive does not operate especially quickly and therefore performance is not optimised.
The 'Works' type 1 3/4″ diameter piston and springs allow a much larger volume of oil to accumulate and therefore the overdrive will engage more quickly when called upon. A 1 ½ " kit is also available, suitable for late Austin Healey BJ8 'stepped' cases or for those looking for a slightly less aggressive operation.
Competition Operating Valve
When the overdrive is switched out there is a delay before the unit is disengaged. Being able to speed up this process offers significant performance benefits. This valve enables the overdrive unit to disengage faster, essential for drivers looking for an instant response when the switch is flicked. This part is suitable for both and race cars.
Overdrive Clutch Brake Ring
These clutch brake rings have been reproduced in cast iron as original with precise control of the cone angle and surface finish to help avoid problems with the sliding member sticking. This results in significantly improved reliability under tough and demanding conditions.
Overdrive Oil Filter
Maintaining a clean and healthy oil supply is essential if the overdrive unit is to operate correctly. Through use the oil will become contaminated and the filter performs a vital job. Competition in particular puts heavy demand on the overdrive oil with higher temperatures and higher gearbox input speeds as drivers seek to maximise their lap times. This strong, stainless steel item is a faithful reproduction of the original and will provide years of service, maintaining a clean flow of oil by blocking pieces of debris which could further damage the unit.
Overdrive Drain Plug and Drain Plug Socket
Denis Welch Motorsport's Overdrive Drain Plug is designed and manufactured in-house. Made from Brass like the original and suitable for the Austin-Healey BN1 to BJ8 models or any A-Type overdrive.
Denis Welch Motorsport's own CAD team have also developed a plug socket which has been CNC machined and zinc plated. Designed to fit the plug perfectly, it features a 3/4″ hex drive which can be used with a socket and bar or even a torque wrench, minimising risk of damage to both plug and case thread.
Overdrive Adapter Plate
Many old, original parts have become damaged and replacements can be extremely difficult to find. With this in mind, Denis Welch Motorsport have had new ones manufactured. These brand new parts have been cast to the original design using a higher grade of aluminium and then heat-treated. These are CNC machined in-house to ensure a perfect fit. Available to suit both the earlier side change gearbox and the later centre change gearboxes.
Complete Overdrives for outright purchase
Denis Welch Motorsport can supply virtually all parts to build a new Healey overdrive, except the centre case. Whilst good stocks of the centre cases allow, complete units can be supplied for outright sale. This option is ideal for those customers who wish to purchase a spare item to have ready when needed or to facilitate a quick return to the road or track whilst their primary unit is refurbished.
Available in 22% ratio to suit race with no speedo drive or 28% Fast Road/Standard with a 15 tooth speedo drive. These are supplied without the overdrive to gearbox adapter plate which is available separately.
Denis Welch Motorsport also have significant experience in rebuilding complete gearboxes and overdrives for customers all over the world who wish to retain their original unit or require a more customised specification.
Part Number Model Price
COVD202A Up-rated Accumulator Piston 1 ¾" £69.50
COVD205 Competition inner and outer springs for 1 ¾" £18.95
COVD204 1 ½" accumulator assembly £120.40
COVD155 Competition Operating Valve £19.50
OVD101 Overdrive Clutch Brake Ring £145.00
OVD175 Overdrive Oil Filter £16.15
OVD174 Overdrive drain plug £38.50
OVD174T Drain plug socket £42.50
OVD146 Overdrive adapter plate (side change) £195.00
OVD147 Overdrive adapter plate (centre change) £195.00
Austin Healey enthusiasts can find out further information on the full range of performance overdrive parts and place their order at www.bighealey.co.uk. They can also order the latest Big Healey Performance Catalogue which features hundreds of new performance enhancing products for the road, rally or race Healey owner or preparer.
Source :
Denis Welch Motorsport