At Last – New Austin DS5 Engine Parts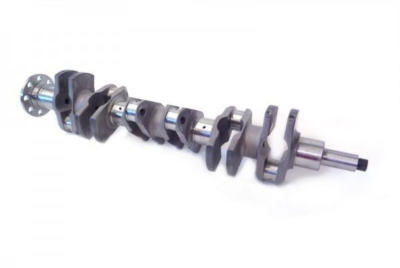 Press Release (ePRNews.com) - BURTON ON TRENT, England - Nov 23, 2016 - After the successful introduction of Austin DS5 cylinder heads, Denis Welch Motorsport has recently added several new products to the DS5 range. These new parts are the ideal complement to the cylinder heads and provide a perfect opportunity for those customers undertaking an engine rebuild to upgrade key components which have previously been unavailable.
The Austin DS5 6 cylinder 4.0 litre engine, is very similar in design to the 2.66 litre 4 cylinder, Austin engine used in the Austin Healey 100 and A90 Atlantic. The DS5 was used in the Jensen 541, 541R and 541S as well as in the early Jensen Interceptor.
Steel Crankshaft
Designed in-house by the Denis Welch Motorsport CAD team, these steel crankshafts are made from a solid billet of EN40B steel and Nitride hardened for the ultimate performance and reliability. Supplies of serviceable original crankshafts have been in decline for many years. These are currently the only steel crankshafts available and provide a significantly better alternative to an old, worn component. These have the original stroke, use standard main bearings, and feature 12 matching counterweights for better performance and balance. They are also ground to suit an improved rear oil seal.
Rear Crank Seal Kit
Oil leaks are a common problem on the DS5 engine due to the poor design of the original scroll type seal. The Denis Welch Motorsport rear seal kit design has been proven over many years in the Austin Healey 4 cylinder engine and utilises an aluminium housing and a split lip seal around the rear of the crankshaft to banish those annoying leaks.
When fitting this kit, some machining of the standard crankshaft and block will be necessary, so therefore can only be fitted during a total engine rebuild. Ideally this should be fitted by an experienced engineer, though full instructions are included.
Die Cast and Forged Pistons
Two new types of pistons have been developed.
Die Cast Pistons with a dish of 14cc which are lighter and offer a better design than the original. They are not only stronger for performance use but are also quieter for use in road cars.
Forged Flat Top pistons are also available to achieve higher compression ratios. The crown is of sufficient thickness to allow a 6cc dish to be machined in if a slight lowering of the ratio is required.
Both are available in a range of metric sizes in order to take advantage of the latest ring technology and reduce crank case pressure.
Steel Con Rods
These H-Beam style con rods are made to exclusive drawings and specification. With conventional fully floating little ends, these therefore only run with pistons that contain circlip grooves e.g. the die cast and forged pistons listed here.
These are considerably lighter and stronger than standard ones. Available for the standard crankshaft or to fit our steel crankshaft.
The DS5 engine remains in use in significant numbers. Owners have been vocal at the lack of some parts for a number of years which has hampered efforts to keep cars on the road and track. The growing range of Austin DS5 parts is a direct result of investment in the latest technology which has made it easier to design and manufacture these specialist parts.
Jensen and other DS5 engine owners will be pleased to know these items are all now available exclusively from Denis Welch Motorsport. Customers can find out further information and place their order at www.bighealey.co.uk
Part Number Model Price
YCENG432K Steel Crankshaft £5950.00 +VAT
CENG590 Rear crank seal kit £59.50 +VAT
CENG409 88mm Dished Pistons £592.50 +VAT
CENG410 88.5mm Dished Pistons £592.50 +VAT
CENG411 89mm Dished Pistons £592.50 +VAT
CENG409F 88mm Forged Flat Top Pistons £742.50 +VAT
CENG403 Steel Con Rods for Standard Crankshaft £2212.50 +VAT
CENG432R Steel Con Rods for Steel Crankshaft £1762.50 +VAT
Source :
Denis Welch Motorsport