Jaguar E-Type Performance Exhausts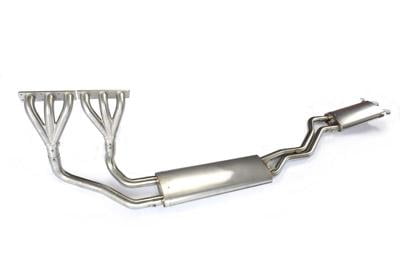 Press Release (ePRNews.com) - BURTON ON TRENT, England - Feb 22, 2017 - The exhaust plays an important role in improving the performance of the Jaguar E-Type. Choosing the right exhaust will improve engine breathing as well as looking and sounding the part.
Denis Welch Motorsport are pleased to announce the addition of stainless steel exhaust components to compliment the mild steel ones already offered. These are available to suit both straight port and wide angle heads. Stainless steel components are typically lighter than the equivalent mild steel part. For example the stainless steel main silencer weighs 10.4kg vs 13kg for the mild steel version. Weight savings aside these are also a popular fitment due to their clean appearance and resistance to corrosion.
These new parts are made from the highest quality T304 grade stainless steel and are mandrel bent to avoid reduced pipe diameter on the bends. They feature smooth continuous TIG welded seams, high quality mounting brackets and are precision engineered in the UK to fit the customer's vehicle whether it be a road or a race car.
Tubular Manifolds
These are of similar design to the original and provide the best flow possible whilst staying within the chassis rails as set out in the FIA requirements. Two types are available to suit both the straight port and wide angle heads, both supplied in pairs.
Down Pipes
Available for both straight port and wide angle head versions, these down pipes are designed to fit the stainless manifolds and underfloor 60mm ID side or rear exit silencers. Supplied in pairs.
Main silencer
This main straight through silencer is designed to mount under the left hand floor and can be used in conjunction with either open tail pipes or a secondary tail silencer. Note that the footwell needs to be of the flat floor type.
Side exit silencer
This high quality solution combines a primary silencer, mounted under the left hand floor with twin exit side pipes which curl up the bodywork ahead of the rear LH wheel. These are a straight through design, hand-made to fit 60mm down pipes. In order to fit this component, the footwell needs to be of the flat floor type.
Secondary silencers and tail pipes
Depending on preference and/or noise regulation customers can choose from either a pair of open tail pipes, a single oval tail silencer and also a polished twin round silencer.
All are designed to work with other components in the range. Where noise limits may be a consideration, Denis Welch Motorsport can advise on the best combination of parts without sacrificing performance.
Also available, silencer re-packing kit
The stainless steel silencers feature removable panels to gain access and enable the sound absorbing packing material to be replaced without the need to unpick the casing welds. This ability to 're-stuff' the silencers provides an ideal way to extend the life of the components.
Two kits are available. Both contain a wire wool, which is used for the first wrap around the pipe followed by glass fibre sheeting. This continuous filament of textured glass is woven into a matted sheet and can be easily folded and rolled to fit into the absorption cavity of the silencer. Once at operating temperature the stitching is designed to melt away allowing the material to fill voids to an even density.
Customers can choose from S Glass material, which is used in the main silencer and high temperature applications or E-Glass, which is used in secondary silencers and lower temperature applications. Each kit comes with a full fitting guide and sufficient material to re-stuff one silencer.
Part Number Model Price
JCEXS120RS Tubular manifolds (straight port) £1,123.36 +VAT
JCEXS120RWS Tubular manifolds (wide angle) £1,095.59 +VAT
JCEXS140S Down pipes (straight port) £270.52 +VAT
JCEXS140WS Down pipes (wide angle) £321.02 +VAT
JCEXS127WS Main silencer and side exit pipes £1,050.86 +VAT
JCEXS127MS Main silencer £1,294.95 +VAT
JCEXS127TS Single oval tail silencer £898.63 +VAT
JCEXS127BTS Twin round tail silencer £746.76 +VAT
JCEXS127PTS Open tail pipes, no silencer £326.98 +VAT
JCEXS125S S-glass silencer re-packing kit £99.50 +VAT
JCEXS125E E-glass silencer re-packing kit £29.50 +VAT
Maximising Silencer life
When used in race applications the exhaust take a significant amount of battering and lead a hard life. High temperatures and a large volume of exhaust gases mean that silencer life is typically much shorter in comparison to a road car.
To maximise silencer life, Denis Welch Motorsport recommend that customers rotate their components according to the noise regulations applicable to the race meeting at the time.
For example at 108dB events such as the Donington Historic Festival the team cars are fitted with a main silencer and open tail pipes whereas at a 98dB event at Goodwood the addition of a secondary silencer on the tail would be needed. By using the additional silencer only when required, service life can be extended and costs constrained.
Jaguar E-Type enthusiasts can find out further information on the full range of performance exhaust parts and place their order at www.bighealey.co.uk. They can also order the latest Jaguar E-Type Performance Catalogue which features hundreds of new performance enhancing products for the road or race E-Type owner or preparer.
Source :
Denis Welch Motorsport