SolGreen® Unveils Breakthrough Technology, the commercially manufactured Evodia Solar Table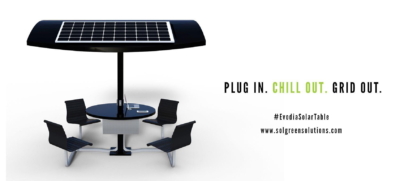 Press Release (ePRNews.com) - ALEXANDRIA, Va. - Feb 06, 2017 - SolGreen® is gearing up to unveil its highly acclaimed Evodia Solar Table with a national ad campaign to be released this Friday. The Evodia Solar Table is a sophisticated, affordably priced outdoor table, capable of powering mobile and portable devices with clean energy. Designed to modernize large outdoor spaces, campuses and social gathering areas, the Evodia Solar Table harnesses the extraordinary power of the sun to provide 24 hours of grid-free clean energy for the everyday user of cell phones, laptops and tablets. By producing a whopping 10,712 Kwh per year to charge 100-150 devices daily, the Evodia Solar Table is a reliable and clean source of GFE and USB charging anytime, anywhere. Topped off with seating to accommodate four users (ADA compliant), eight GFE and USB outlets and LED night lighting.
Built using user-centered design, the Evodia meets the optimal performance requirements needed to accommodate users in any climate, environment or landscape. High-tech power storage ensures 24 hours of device charging even on cloudy days. Like many leading commercial products, the Evodia utilizes patented built-in-user-safety technology to keep users and devices safe. SolGreen's Intelligent Rain Detection System (IRDS) acts as an automatic reset, which shuts down power during rainfall and restores power once dry conditions are met.
Customers have praised the Evodia for not only its innovative solar technology, but also its beautifully crafted aesthetic design built of steel, fiberglass and high-tech PV integration systems that give the Evodia Solar Table an unmatched 20+ year manufacturing guarantee.
As the center of outdoor social gathering and engagement, the Evodia means users are no longer forced to choose between staying connected and enjoying the outdoors. For facilities that wish to modernize, the Evodia enhances visitor experience and adds visible investment in appearance, infrastructure and sustainable development.
"We asked ourselves how might we move the needle on environmentally focused design to create a breakthrough product that is less concept and more essential to the evolving energy needs of facilities and everyday individuals," said Matthew N. Portis, President and CEO of SolGreen®. "We believe the Evodia Solar Table is the next era of clean technology."
Customers and users also benefit from SolGreen's thoughtful solar table customizations like Wi-Fi, color and logo options and digital display capabilities.
15-Second Commercial Release
On February 10th, SolGreen will release its 15-second online commercial, the first take of a four-series visual project. This yearlong ad campaign, designed to market the Evodia Solar Table internationally, promises to forever change how the world sees clean technology. "Make it new." –Ezra Pound
Price
The Evodia Solar Table is manufactured in the U.S. and is seated on over 26 outdoor campuses in the U.S. and Canada. Now available for direct order through SolGreen (www.solgreensolutions.com).
The standard Evodia Solar Table with four attached chairs is priced at $17,414 and the Evodia Solar Table with three attached chairs is priced at $16,894. The basic Evodia Solar Table with detached seating is priced at $13,884 and allows facilities to order standalone chairs or use their own. Each price includes estimated shipping, professional installation assistance in the U.S. and a free one-year service warranty.
Customizations available upon request. Prices are as follows:
Additional Battery Storage $375
Customizable Colors (included free)
Logo $400
Wi-Fi $270
Digital Displays (call for details)
Two-Year Service Warranty $1,000
Four-Year Service Warranty $2,000
Source :
SolGreen® Solutions