The Perfect All-Round Projector For Business or Pleasure: The New M550 Plus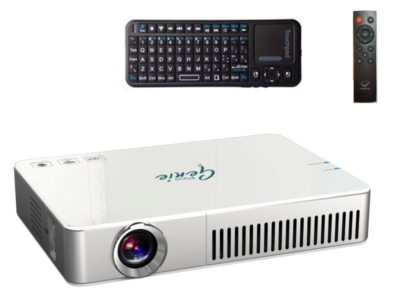 Press Release (ePRNews.com) - LEEDS, England - Nov 24, 2016 - The Pico Genie M550 burst onto the scene earlier this year as the world's brightest HD LED projector with an astonishing 650 Lumen lightshow and some seriously impressive hardware. If you thought that was impressive though, you ain't seen nothing yet! The Pico Genie M550 Plus, the big brother of the M550, offers the same 650 Lumen punch in the same sleek and ultra portable frame with a whole host of extra features that make it a world leader in ultra portable projectors!
The new M550 Plus really is the ultra portable projector to beat at the moment with features to tick every box for most users whether its business or pleasure. The image performance is still excellent and easily capable of an 80″ – 100″ diagonal image or 2 meters wide in a normally lit room.
As standard the original M550 came with Android OS so you can download any app from the Play store, wireless mirroring for almost every device, every connectivity option you could want, 8GB of internal memory, 3D and much more.
The new M550 Plus now adds a much needed portable wireless keyboard with an integrated mouse (and still includes the radio remote control as well) allowing you to easily control the onboard media interface and type text. You can download your favourite app directly onto the projector making this the ideal choice for games, movies, music or business requirements such as Powerpoint, Word, and Excel.
Apps like Netlfix, Showreel or Kodi are very popular for instant home cinema use right now and in some ways you can think of the projector as one of the new popular Android boxes with a built in projector that are popping up everywhere for watching TV. The wireless keyboard also makes it much easier to setup your Wi-Fi and other settings on the device.
Another favourite feature on the new model is the Apple iOS mirroring feature which means what you see on your iPhone, iPad or Mac is what you get on the projector. Wireless connectivity can sometimes be a pain to setup so this whole process has been simplified on the M550 Plus which means using the M550 Plus is now a doddle. As with the standard M550 model, you can also easily connect to other devices like Android or Windows devices via the myriad of wireless options.
The battery is also now more efficient than before, now boasting 3 eco modes and guarantees up to 3 hours battery usage whether you're out on the African plains, in a high-powered business meeting or simply want to watch the football or a blockbuster movie.
Finally, the new model also weighs in at a lighter weight and is 100 grams lighter than the previous M550 model and is can easily be carried anywhere.
The only thing to drop off the new model that was on the old model is there is no longer an AV RCA (red, white, yellow) cable connections or VGA cables (it does still have a VGA port, though) as these are now fast becoming outdated cables and have been replaced by wireless options or HDMI connections.
It's an amazing piece of kit, and a clear leader in its price bracket. Drop it into any situation and its crisp display, powerful 3 watt speakers, amazing connectivity options and mighty battery mean it can handle anything, anywhere, anytime. If you're looking for a versatile projector that has enough bells and whistles to satisfy almost every user from the businessman to the hardcore tech fan while still being simple and accessible enough for even a novice to use, the M550 Plus is highly recommended.
To view this amazing product and find out full spec details please click here: http://www.personalprojector.co.uk/pico-genie-m550-plus.html
Source :
Personal Projector

Business Info :
Personal Projector
England