The Real Truth About No No Hair Removal and How It's Revolutionizing the World
nono Hair Removal is offering a budget-friendly, painless, at-home hair removal solution to users all over the world.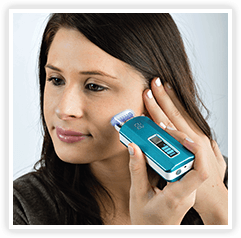 Press Release (ePRNews.com) - WAYNE, Pa. - Jun 28, 2017 - No!No!® Hair Removal is an at-home portable hair-removal device that uses Thermicon technology to painlessly remove hair from the body. Using heat-based technology, nono treats hair follicles on the skin's surface, crystalizing and removing the hair from the skin for long-lasting results with continued use.
Women have been dealing with the issue of hair removal for years. Solutions, like razors, tend to leave the skin irritated and bumpy while other solutions, like waxing and laser hair-removal, are painful and expensive. no!no! Hair offers a budget-friendly, painless option that leaves the skin smooth for weeks. Unlike lasers, the nono hair removal system works on all skin types and hair colors, so there is a solution for everyone. Don't be embarrassed to show off your legs this summer!
As most women know, nothing can ruin a good make-up day like peach fuzz on the face. With no!no! Hair Removal for face, this problem is easily resolved. Because of its practical design, nono can be used on any part of the body – including more sensitive areas like the face and lip. Simply glide no!no!® along your skin and watch that peach fuzz disappear!
Women are not the only ones who can benefit from nono Hair Removal. Men deal with the embarrassment of unwanted hair just as often as women. Because of this, no!no!® is now available in platinum and black. This sleek and masculine look is designed to be more appealing to male consumers.
Clinical studies have found nono to be effective and safe on all hair colors, skin tones, and even can be used over tattoos! no!no!® is a hair-removal solution the professionals even agree on. Physicians and estheticians from all over have been advocates of nono. Dr. James Spencer, MD, of Florida stated: "The efficiency and safety of no!no!® Thermicon device in hair removal appear to be comparable to those of more expensive, in-office methods." And dermatologist Dr. Dina Strachan, MD, emphasizes, "What impresses me about no!no! is all the research and clinical studies that have been done to prove that it really does work."
Born in Israel, nono has been around for more than two decades. After purchasing the product this past January, ICTV Brands located in Wayne, PA, has worked hard to perfect no!no!® and continues to launch sales around the globe. nono is currently sold in over 50 countries and has an estimated 6 million users worldwide.
There are currently three unique models of no!no!® available in the market – MICRO, PRO and ULTRA.
MICRO: The smallest of the nono models, about ¾ the size of the others, the MICRO uses the same Thermicon technology as the others. It offers one treatment level good for the removal of facial, upper lip and bikini hair.
PRO: A bit larger no!no!® model than the MICRO, the no no PRO hair removal comes with three treatment levels and pulsed Thermicon technology, which can be used virtually anywhere on the face and body.
ULTRA: No No ULTRA Hair Removal offers three treatment levels and patented Thermicon technology as well as dynamic speed control, which adapts to the user's movements. Not only that – nono ULTRA is a 4-in-1 beauty tool that can include applicators for serum infusion, facial cleansing and buffing for post-hair removal treatment.
All three models of no!no!® Hair Removal can be purchased on the nono Hair Removal official website, https://officialnono.com/, and come with a 60-Day Money Back Guarantee!
Source :
ICTV Brands Inc.