First of Its Kind Book About Infant Laser Frenectomies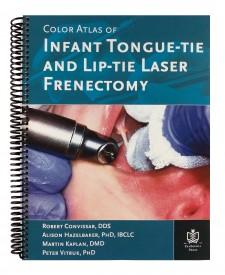 Press Release (ePRNews.com) - Stoughton, MA - Jun 13, 2017 - This brand-new book, "Color Atlas of Infant Tongue-Tie and Lip-Tie Laser Frenectomy," was co-authored by a pediatric dentist, Martin Kaplan, DMD, DABLS.
"This is a topic of great concern for me — I often see an overdiagnosis of 'organic' reflux before the clinician rules out the symptoms of reflux that are due either to swallowing of air (aerophagia) or to unrecognized restrictive lingual or maxillary frenum, which interferes with a proper breast latch. As a result, doctors often unnecessarily put babies at risk by placing them on reflux medication when there is no need. Infant tongue- and lip-tie treatment is a simple in-office procedure that I perform with a LightScalpel CO2 laser, followed by a referral to an IBCLC (International Board Certified Lactation Consultant). A friend of mine — a forensic dentist — is even evaluating babies who died of SIDS for tongue- and lip-ties because there can be a link to aspiration and choking," says Dr. Kaplan.
In this first of its kind book, Dr. Kaplan presents over 30 clinical cases of infant laser frenectomy procedure, including case histories and pre-, intra- and post-operative photos, juxtaposing ordinary cases with more unusual and rare ones. The Atlas also contains comprehensive information on the physiology of breastfeeding and sucking, guidelines for proper tongue- and lip-tie assessment, and the physics of laser ablation and coagulation of the oral soft tissues. The other co-authors of the book include general dentist, Robert Convissar, DDS; International Board certified lactation consultant, Alison Hazelbaker, Ph.D., IBCLC; and laser physicist, Peter Vitruk, Ph.D. 
Dr. Kaplan is also a creator of a first of its kind procedure training class at Tufts University College of Dental Medicine Department of Continuing Education, titled "Pediatric Tongue- and Lip-Ties: Diagnosis and Treatment with Soft-Tissue Lasers." To date, this groundbreaking training course has been attended by hundreds of doctors and lactation professionals from around the globe, including Greece, India, and Qatar.
About Infant Laser Frenectomies
Dr. Kaplan passionately encourages a team approach to educating health professionals and the public about this physical oral restriction — the problem that has a simple solution, but is often overlooked. When the need for a frenectomy is properly diagnosed — which ideally should be done in concert with  a physician and an IBCLC — the frenectomy can resolve many cases of painful breastfeeding, poor latch, failure to thrive from inability to retain breast milk, choking and gagging, and others. With fourteen years of clinical experience with all dental lasers, Dr. Kaplan is convinced that the revision of a properly diagnosed restrictive frenum yields the best results when performed with a CO2 laser. In contrast with the fiber-tipped dental diodes which remove tissue via prolonged direct thermal contact, the CO2 laser rapidly vaporizes frenal tissue photo-thermally. The CO2 laser procedure often takes seconds to perform with little-to-no bleeding, and can dramatically improve breastfeeding for many babies and their mothers.
About Dr. Kaplan
Martin Kaplan, DMD, DABLS, maintains a full-time pediatric dental practice in Stoughton, Massachusetts. He is a part-time adjunct clinical instructor in the pediatric post-graduate department at Tufts University School of Dental Medicine in Boston. He has been an early adopter of laser dentistry and has been standard certified by the Academy of Laser Dentistry since 2004. He has lectured nationally and internationally and has co-authored several dental articles and been a contributing author in several dental texts. Dr. Kaplan is the first pediatric laser dentist to become a Diplomate of the American Board of Laser Surgery, and he currently serves as its Director of Laser Dentistry Education.
Media Contact
Martin Kaplan, DMD, DABLS
Phone: (781) 341-0320
Email: martin.kaplan4@verizon.net
Website: www.kidcaredental.com
Source :
Dr. Martin Kaplan, DMD, DABLS