Philips Screeneo 2.0 Alternative Projectors: Buyers' Guide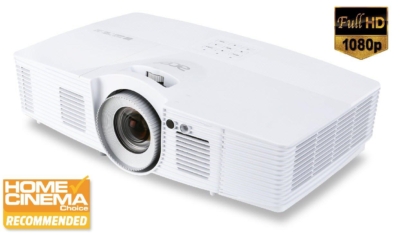 Press Release (ePRNews.com) - LEEDS, England - Dec 15, 2016 - Philips' Screeneo 2.0 short throw projector has been a surprise hit this Christmas, meaning you may well be one of the customers who missed out on one due to severe stock shortages. There's no reason to be downhearted, though, as we have some amazing alternatives that would fit just as nicely under the tree and for a fraction of the cost!
Christmas is the time for giving, so let us give you some food for thought with these alternative high-spec projectors that you may not have considered.
Acer V7500, 2500 Lumen Full HD/3D Home Cinema Projector
The award-winning Acer V7500 is near the top of the tree this Christmas! Boasting an incredible 2500 Lumen lightshow to back up its revolutionary software and sophisticated colour technology, it's no surprise it comes recommended by Home Cinema Choice magazine.
Inside its trendy white exterior is a range of seriously impressive features, including an Ambient Light Sensor to automatically adjust the image to suit the brightness of your surroundings, 4 Corner keystone correction and RGBRGB colour wheel for vivid colours. It also boasts a whopping 20,000:1 contrast ratio, meaning its picture quality is hard to beat, whether you're watching a film in a darkened room or sport on a bright Saturday afternoon. It isn't short throw, but it does have a massive max image size of 300″, over twice the size of the Screeneo for less than half the cost! If you wanted a Screeneo for home cinema or sport, the V7500 has you covered!
Acer H6517ST, 3000 Lumen Short Throw Full HD/3D DLP Projector
A mighty short throw projector that can project a huge screen just a metre from your projection surface, the H6517ST might not be the most snappily-titled projector, but it's ideal for cinema, gaming and more!
At 3000 Lumens, it can project a crystal clear image in even bright sunlight, meaning you can get Full HD in a billion colours and flicker-free 3D at 300 inches diagonally. It has a range of automatic and manual image adjustment controls so it's a doddle to set up and get that big-screen feeling from the comfort of your living room. If you're looking for a projector that can produce a massive, clear image even in the most cramped Christmas living room, you might want to put the H6517ST on your Christmas list.
Acer H7550ST, 3000 Lumen Short Throw Full HD/3D Projector
Packing a heavyweight punch in a lightweight frame, the H7550ST is a short throw projector with the power to turn your front room into a multiplex cinema, even when it's less than a metre away from your projection surface.
Boasting a full range of flexible wired and wireless functionality to help you connect to any audio or visual device, the H7550ST backs up its crystal clear image projected by a 3000 Lumen lamp with an onboard 10W speaker, meaning you don't even need an external speaker to get that cinematic sound experience. Whether it's gaming, sport, cinema or a festive TV binge you want, the H7550ST can give you a huge screen and booming sound even if you don't have a lot of space to project in.
Check out our comparison of all these great projectors here:
https://www.dropbox.com/s/np7bn3uv32k7kjx/Products%20Comp…
http://www.personalprojector.co.uk/catalogsearch/result/?…
Source :
Personal Projector

Business Info :
Personal Projector
England