Drawings attributed to Picasso, Warhol, Dr. Seuss, Man Ray, Lichtenstein, etc. will be sold May 24th
A drawing in ink on paper attributed to Romanian artist Victor Brauner (1903-1966) and an ink drawing on buff toned paper, signed and dated by visual artist Man Ray (1890-1976), are expected top earners in Woodshed Art Auctions' May 24th auction.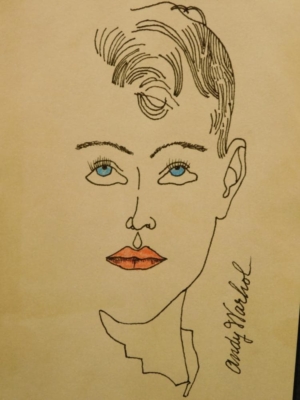 Press Release (ePRNews.com) - FRANKLIN, Mass. - May 15, 2017 - A drawing in ink on paper attributed to Romanian artist Victor Brauner (1903-1966) and an ink drawing on buff toned paper, signed and dated by the renowned visual artist Man Ray (1890-1976), are expected top earners in Woodshed Art Auctions' next Prestige Collection fine art sale, featuring 32 lots of Modern and Impressionist drawings and paintings.
The auction will be online-only – as are all Woodshed Art Auctions sales – and will be held on Wednesday, May 24th, at 12 o'clock noon Eastern time. Previews will also be held online, at the Woodshed Art Auctions website (www.woodshedartauctions.com), or by appointment in the firm's gallery, at 1243 Pond Street in Franklin. To schedule a preview, call (508) 533-6277.
Internet bidding will be provided by LiveAuctioneers.com, Invaluable.com and Bidsquare.com.
Woodshed's Prestige Collection sales are small auctions focused mainly on modestly priced works by big-name artists, and the names in this sale are indeed big. In addition to Victor Brauner and Man Ray, others include Theodore Seuss Geisel (aka Dr. Seuss), Roy Lichtenstein, Maurice Bernard Sendak, Pablo Picasso, Jean Cocteau, Mario Carreno and Andy Warhol.
"This auction is full of intimate, small-scale works that offer excellent glimpses into each artist's mindset," said Bruce Wood of Woodshed Art Auctions. "The Cocteaus are playful, the Picassos exude power and energy, and the Brauner and Lam drawings are iconic and full of metaphysical references. The price points are perfect for adventurous and knowledgeable collectors looking to acquire works associated with some of the greatest, most sought-after artists of the past century."
The drawing in ink on paper attributed to Victor Brauner, titled Woman, was done in 1945 and is one of two Brauners in the auction. It carries a pre-sale estimate of $5,000-$7,000. Brauner was born in Romania, the son of a Jewish timber manufacturer. He went to school in Vienna and later settled in Paris in 1930. Brauner was an accomplished sculptor and painter of surrealistic images.
The ink drawing on buff toned paper by Man Ray (real name, Emmanuel Radnitzky), is titled Ship, Sailors and a Woman, signed and dated 1936. The woodcut should earn $6,000-$10,000. Man Ray was born in America but lived mostly in France. He contributed to both the Dada and Surrealist movements and regarded himself a painter, but he's best known for his photography.
There are two drawings attributed to Man Ray in the auction, and there are also two attributed to pop art icon Andy Warhol (Am., 1928-1987). One, titled Young Man, is a portrait drawing in ink and colored pencil on paper, signed and unframed. It's expected to command $4,000-$8,000. The Warhol name and cache should mute any concerns about toning, light stains and handling marks.
Fans of Picasso will be pleased to know that three drawings attributed to (or in the manner of) the Spanish-born master will come up for bid. One is a signed and dated (1964) charcoal on bond paper titled Three Dancing Figures. The 4 ¾ inch by 8 inch drawing is showing a little age discoloration and toning, but it's still a Picasso (attributed) and is expected to hit $2,000-$4,000.
A hat trick of three drawings attributed to Jean Cocteau (Fr., 1889-1963) will also come under the gavel, including a signed and titled (La Mediterranee) crayon drawing on buff paper, 11 inches by 8 ½ inches, unframed, that's estimated to reach $3,000-$5,000. Cocteau was an artist, writer, designer, playwright and filmmaker. He wrote the novel Les Enfants Terrible in 1929.
The last of the multiples in the sale is Mario Carreno (1913-1999), the Cuban-born Chilean artist. His two attributions will include an ink drawing on paper titled Mascaron de Proa (Figurehead). The work is signed and dated (1973) and carries an estimate of $1,000-$2,000. It was consigned by a Chilean collector. Carreno studied in Cuba, Spain and France before settling in Chile.
An ink and dye on smooth card-weight paper, attributed to the pop art icon Roy Lichtenstein (Am., 1923-1997), titled Brush Stroke, is expected to change hands for $3,000-$4,000. The piece is signed and unframed and measures 3 ½ inches by 6 ½ inches. Lichtenstein defined the premise of pop art via parody, producing precise compositions of comic strips in a tongue-in-cheek way.
Who doesn't love Theodore Geisel? Never heard of him? Yes you have. He's Dr. Seuss (Am., 1904-1991), and the auction boasts an illustration attributed to Geisel of perhaps his best-known and best loved character, the Cat in the Hat. A drawing in red and black ink on white paper of Cat in the Hat, signed and inscribed "Best wishes, from Dr. Seuss," should make $4,000-$6,000.
An ink drawing on paper attributed to Wilfredo Lam (Cuban, 1902-1982), titled Shaman, signed and dated (1941), in very good condition, is expected to breeze to $8,000-$12,000. The drawing is in very good condition. Lam sought to portray and revive the enduring Afro-Cuban spirit and culture, often utilizing a unique style that was characterized by the prominence of hybrid figures..
Woodshed Art Auctions is always accepting quality artworks for future auctions. To inquire about consigning a single piece or an entire collection, you may call Bruce Wood at (508) 533-6277; or, you can e-mail him at bruce@woodshedgallery.com. To learn more about Woodshed Art Auctions and the online-only auction on May 24th, visit www.woodshedartauctions.com.
Source :
Woodshed Art Auctions