Original ink drawing by Vincent van Gogh will be part of The Woodshed Gallery's online-only art sale, March 29th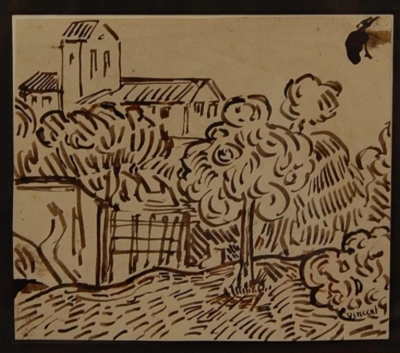 Press Release (ePRNews.com) - Franklin, Mass. - Mar 17, 2017 - An original ink drawing by Vincent van Gogh, an untitled 1967 gouache study by Adolph Gottlieb, a work by Fernand Leger titled Composition with Three Women and a paint and ink on cardboard attributed to Jean-Michel Basquiat will all be part of a tidy, 97-lot online-only Master Artworks Discovery sale planned for March 29th by The Woodshed Gallery.
"I decided to keep this auction small, in order to focus on the bigger-name items," said Bruce Wood of The Woodshed Gallery, adding that the sale will also be a showcase for exciting and emerging talent, such as Juta Barbara Bender (Swiss, 1944-2016), a self-reverential artist who will be represented with five original oil on canvas paintings, expected to bring $1,000-$2,000.
In addition to the abovenamed works, the sale will also feature paintings by Latin American artists, rare posters by SEPO, a Picasso drawing with autograph and offerings from Man Ray and Andy Warhol. The auction will start at 12 o'clock noon Eastern time. Internet bidding will be provided by LiveAuctioneers.com, Invaluable.com and the website www.woodshedgalleryauctions.com.
The van Gogh (1853-1890) is a dark brown ink drawing on heavy wove paper, attributed to and done in the manner of the Dutch Master. It's signed lower right and titled Landscape with Tree, and measures 8 ¼ inches by 8 ½ inches. The starting bid is $20,000. The gouache and ink on wove paper by Adolph Gottlieb (1903-1974) is untitled, signed in pencil and dated 1967, also in pencil, on the reverse. The study, 11 ¼ inches by 13 ¾ inches, carries a starting bid of $5,000.
The mixed media on paper by Fernand Leger (Fr., 1881-1955), titled Composition with Three Women, is artist signed and comes with a certificate of authenticity. The 18 inch by 13 ¼ inch work has a starting bid of $20,000. The 9 ½ inch by 13 inch paint and ink on cardboard by Jean-Michel Basquait, titled Federal Reserve, is attributed to the artist, with a starting bid of $1,500.
Five drawings, all attributed to the pop art icon Andy Warhol (Am., 1928-1987), will be in the auction, to include a drawing in color markers on manila folder-weight paper titled Two Campbells Soup Cans. It has a starting bid of $1,500. Several drawings by the inimitable Dr. Seuss will also cross the auction block including a drawing in ink and color pencil on heavy bond of his iconic Cat in the Hat character, signed "Best Wishes". The starting bid is $1,000.
An unsigned oil on canvas Portrait of Moses, attributed to the Spanish artist Jose de Ribera (1591-1652), done circa 1637, installed in an ornate 20th century frame and restored around 1980 by Margaret Weatherstone of the Whitney Museum, has a starting bid of $10,000. Also, a 16th or 17th century baby's crib adorned with tempera paint on wood depictions of 12 biblical scenes, possibly Italian and inscribed in a secret language that was invented by Hildegard von Bingen, has a starting bid of $2,000.
Staying in Italy, a 1928 poster for Noveltex (shirts) by Severo Pozzati (Sepo) (It., 1895-1983), published by Affiches Dorland (Paris) and large at 59 inches by 39 ¼ inches, has a starting bid of $2,000; while a 17th century Italian School oil painting titled Landscape with Ruins, installed in a new decorative gold-metal gilt frame, 22 inches by 33 inches (sight) has a starting bid of $800.
A self-portrait drawing by iconic Chicago artist Lee Godie (1908-1994), with an accompanying photo, inscribed verso "Value $150, figures actress-artist Lee Godie, French Impressionist," has a starting bid of $500. Also, a watercolor on smooth card-weight paper, attributed to pop artist Roy Lichtenstein, (Am., 1923-1997), titled Three Brush Strokes, carries a starting bid of $500.
From Mexico, a collage made of fabric and miscellaneous materials by Rodolfo Morales (1925-2010), titled Mujer Corriente, encased in an artist-made tin frame adorned with mirror panels and cast corner ornamentation, has a starting bid of $1,200; and an oil on canvas by Francisco Corzas (1936-1983), titled Two Figures and signed and dated 1963, has a starting bid of $7,500.
An oil on board Portrait of a Man by the Uruguayan artist Joaquin Torres Garcia (1874-1949), signed "JTG" and measuring approximately 19 inches by 12 ¾ inches, has a starting bid of $5,000; while an unframed oil on canvas Portrait of Leila Roosevelt, unsigned but identified on the back as being painted by Frank Chester Perry (Am., 1859-1943), has a starting bid of $800.
In addition to live internet bidding, phone and absentee bids will also be accepted. This being an online-only auction, there will be no live previews. However, all lots may be viewed now, at the internet bidding platforms (LiveAuctioneers.com and Invaluable.com), as well as The Woodshed Gallery auction site, www.woodshedgalleryauctions.com. A buyer's premium will be applied to all winning bids.
The Woodshed Gallery is a family-owned art gallery specializing in oil painting restoration and live and online art auctions. The company is celebrating its 49th anniversary.
The Woodshed Gallery is always accepting quality artworks for future auctions. To inquire about consigning a single piece or an entire collection, you may call Bruce Wood at (508) 533-6277; or, you can e-mail him at bruce@woodshedgallery.com. To learn more about The Woodshed Gallery and the online-only auction on March 29th, visit www.woodshedgalleryauctions.com.
Source :
Bruce Wood