Drop in on Dharma and Discover Kava-Time!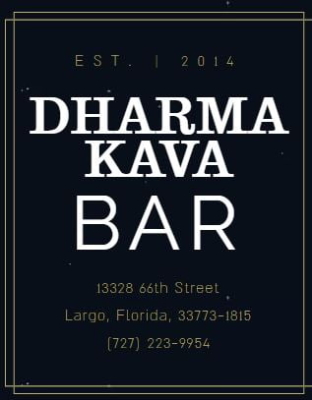 Press Release (ePRNews.com) - Largo, FL - Sep 03, 2020 - Seeking out a new drinking experience in the Tampa Bay Area? Then there's only one place: Dhama Kava Lounge for its kava, exotic teas and live music nights.
The Dhama Kava Lounge, based at 13328 66th Street, Largo, Florida, first opened its doors to the public in November 2014 and has since become a major focal point for locals and Bay Area visitors.
It has built up a formidable reputation for serving up the finest, lab-tested kava, refined exotic teas, and smoothest smoking hookahs.
Their kava drinks are some of the most talked-about, as they have a smooth, strong kick, and packed with vitamins and minerals, such as Choline.
Not only is their kava quality-assured and naturally cultivated, it also has all-natural emulsifying ingredients. The drinks originate from Fiji and the Solomon Islands, while their exotic teas are also packed with energy-packed herbs.
The Lounge, evolving from a neighborhood hookah bar, is also Tampa Bay's first and only kava music venue, with a fully-equipped, professional sound-stage that utilizes top-tier gear and a live-sound engineer.
It hosts one of the biggest open mics in the region on Monday nights, starting at 9 pm, and attracts a host of musicians, comedians, and poets.
On Fridays, also starting at 9 pm, the Lounge showcases several dedicated local musicians/bands. These performances cover a range of genres – acoustic singer-songwriter, alt-rock, indie and folk, all designed to provide an uplifting vibe to start your weekend.
The Lounge is keen on protecting the planet and has taken various measures to reduce its carbon footprint. Most of their products, such as napkins, towels, cups, etc. are bio-degradable or are made from recycled materials.
To book a table for an unforgettable experience, call (727) 223-9954, and for further information about the Lounge and what it offers, view: https://www.dharmakavalounge.com/.