Edge Technology Offers Top-of-the-line IT Consulting Service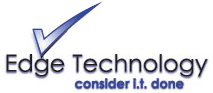 Press Release (ePRNews.com) - United States - Jul 23, 2022 - Edge technology is a top IT consulting company that small businesses need to stay ahead in today's competitive business world. They are 100 percent committed to providing their clients with the best computer and network support and managed IT services in Columbus and central Ohio. With an enterprise-class monitoring solution, a dedicated emergency contact, and an extensive documentation process, clients can be confident that their engineers can resolve any issue that their business may have. All their engineers are certified and also friendly. They include Apple experts, experts with A+ certifications, Microsoft certifications, and Cisco certifications.
Answering a query, the company spokesperson said, "Our company offers robust local and cloud-based monitored and HIPAA compliant backup solutions that ensure clients' critical data is protected. Following industry best practices, our solutions use layered backups with no single point of failure, ensuring that data backups are available when one needs them."
In need of IT consulting services in Columbus Ohio? Edge Technology is the one-stop destination for exceptional IT consulting services. Their services have been designed and built from the ground up to support small businesses. So, when it comes to the IT budget for small businesses, they fully understand the budget challenges they face and how critical IT systems are to their success. They provide a broad range of services to meet the needs of small businesses and will always put the needs of their clients first. Their services are responsive, professional, and proactive, and they include network support, system monitoring, web and email hosting, internet security, disaster recovery, and more. So, if one has IT consulting and support needs for their small business, they should consider contacting the company.
The company spokesperson added, "In addition, we provide daily monitoring of the backups, allowing us to identify and resolve problems when they occur instead of discovering issues when a client needs to recover data. In the event of a disaster, our onsite engineers will be there to recover the data and get clients' systems back online as quickly as possible. For answers to any other inquiry, clients can contact us."
Typically, Edge Technology takes the responsibility of continually looking for ways to better serve its clients through the use of technology, systems, processes, and training so that clients can concentrate on running their businesses. For them, no IT problem is too big or too complex for them to handle. They always resolve client problems with real fixes and not bad aids. And they are always available whenever clients need their assistance. So, those looking for IT consulting firms in Columbus Ohio, to get a solution to their IT problems should consider contacting the company.
About Edge Technology
Edge Technology is a company that is committed to providing the most responsive IT support in Columbus, OH. It was founded in April of 2003, and since then, they have continued to provide friendly, timely, and expert IT support to its clients. Those looking for an IT support company in Columbus Ohio can contact the company.
Contact Details
Edge Technology
635 Park Meadow Rd,
Ste 105 Westerville,
OH 43081
Telephone: (614) 823-8050
Fax: (614) 823-8052
Email: info@edge-technology.com
Website: https://edge-technology.com/
Source :
Edge Technology