Emilygrene Corp. to Launch New Career Web Page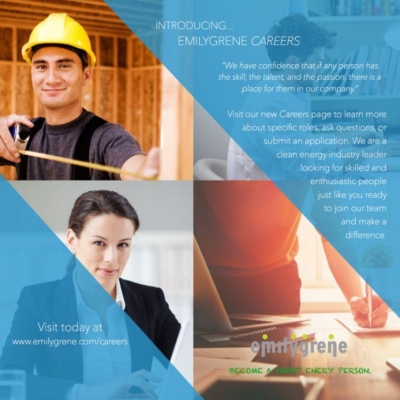 Press Release (ePRNews.com) - GLENDORA, Calif. - Apr 07, 2017 - As part of an ongoing employment opportunity outreach effort, Emilygrene Corp. will launch a new career web page to actively reach out to job seekers interested in pursuing a career in clean energy and combatting climate change.
According to CEO Burke Ewers, "As an active member in the green energy movement, we look forward to introducing our new Careers page, and to continually working with technicians, students, and professionals interested in making a difference."
Mr. Ewers has spent the past five years as head of Emilygrene Corp., working with large institutions and small businesses alike to grow and develop the Southern California based energy efficiency installer into a prominent solutions provider. Careers is expected to reflect this mission, and to become a resource for interested candidates to learn more about specific roles, ask questions, or submit an application.
"We have worked diligently to create a simple web page for anyone looking to get involved in clean energy," promises Mr. Ewers. "We have confidence that if any person has the skill, the talent, and the passion, there is a place for them in our company."
Careers is scheduled to launch April 14 as part of a larger design update on the Emilygrene Corp. website, with other major changes expected throughout the month. Careers is the newest version of the web page released by Emilygrene Corp. to actively engage job seekers and support their smart energy team.
Burke Ewers is CEO and member of the board of directors for Emilygrene Corp. with over 15 years experience in the energy industry. Emilygrene Corp. is a provider of clean energy and energy efficient technology for facilities across the United States, located at 2247 Lindsay Way in Glendora, California.
Learn more at http://www.emilygrene.com
Source :
Emilygrene Corp.

Business Info :
Emilygrene Corp.
2247 Lindsay Way
Glendora, California - 91740 United States
Phone: 855-463-6459
Website:
http://www.emilygrene.com