TULS Corp announces the launch of its new website on its Incorporation Day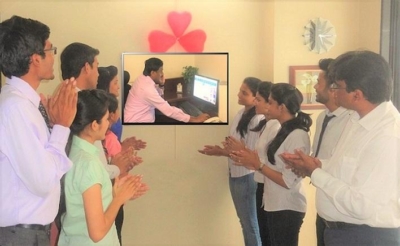 Press Release (ePRNews.com) - MUMBAI, India - Feb 17, 2017 - TULS Corp Pvt. Ltd. a leading Project Management and advisory services company announced the launch of its brand-new website on its incorporation day. The launch was officially announced by Mr. Hari Kishore, Managing Partner at Pragathi Group, a leading real estate company based in Bangalore. Pragathi Group comprises of a team of young, qualified, and successful entrepreneurs with a vision & commitment. The group has successfully completed number of residential layouts across Karnataka.
"TULS new website is interactive, new age design and mobile friendly. TULS Corp has been working with Pragathi Group right from our 1st Solar Project. TULS Corp has provided us with very professional and value added services such that Pragathi Group completely relied on TULS Services for this diversified business. I personally congratulate TULS and its team on launch of their new website. My best wishes to TULS and I am confident that TULS Corp with their ability and ethical way of working will make them grow exponentially in the years to come." said Mr. Hari Kishore.
"We are glad to have Mr. Hari Kishore to launch our new website. TULS has always driven inspiration and guidance from veterans of industry like Mr. Hari Kishore. We are thankful that Pragathi Group is one of our prestigious client and Mr. Hari Kishore took time out of his busy schedule to launch our website electronically. Our goal with this new website is to provide our visitors an easier way to learn about TULS Corp services and solutions and to allow the visitor to browse information based on their own choice. The new website is interactive and gives better access to all information. Moreover, the website is Mobile friendly. Our current and prospective clients will find useful information about our services and credentials on our website." said Vaibhav Satpute, Director, TULS Corp Pvt. Ltd.
About TULS Corp Pvt. Ltd.
TULS Corp Private Limited (TULS), is 7-year-old Project Management and Advisory Services Company, based in Mumbai. TULS provides range of high quality, cost-effective project management, cost management and advisory services on Pan India basis. Within the span of 7 years, TULS has provided services to more than 77 Clientele and takes pride to mention that out of them, 20 are Returning Clients and 6 international. TULS has impressive Client list varying from State Utilities, Government Departments, Multinational Companies, Public Limited companies, Private Limited Companies, Partnership Firms, and HNI's. TULS serve's clientele operating in Power and Construction Space. In Construction space, TULS serve's Client's in Real Estate as well as Infrastructure Industry. Core competency of TULS involves in providing end-to-end & value added support to it's client from inception stage up to commissioning of the project. TULS also provides Owners Engineer Services, 3rd party inspection, Bid document preparation and evaluation. TULS has provided Salvage value determination services of large industrial complex for a real estate company. For Real Estate Companies, apart from Project Management, TULS offers services like Cost Consulting, Quantity Surveying, MEP, BBS, Bill Certification etc. TULS has carried out Structural Auditing works for Conventional Power Plants and Large Chemical factory. TULS also provides Quality Control and Assurance services to large Construction Projects.
For Companies/Entrepreneurs wishing to diversify or enter new sector, TULS offers services like Market research, Feasibility studies, Techno-Economic Viability (TEV) reports, Detailed Project Reports (DPR) Technology Transfer, search for International Partner, Business Incubation, Risk Assessment, etc. Company also provides Business Transformation and drafting SOP's for Companies intending to be more competitive in current business environment. Apart from Construction and Power section, as of today, TULS has prepared DPR for Milk Processing Unit, Cold Storage, Food Court, Industrial Kitchen and QSR Restaurant, Fish Food Outlet, Solar Power Plant, Solar Product Manufacturing, Technical Textiles Products, etc.
Visit TULS at https://www.tulsgroup.com
Source :
TULS Corp Pvt. Ltd.