Enjoy your dinner in one click with the REDMOND multicooker SkyCooker M800S-Е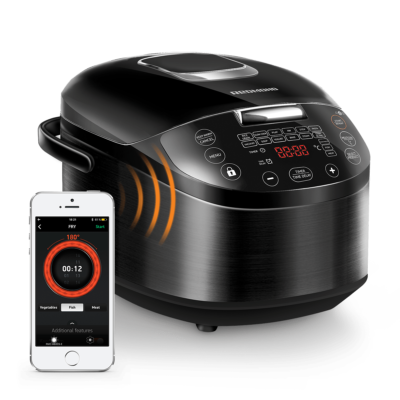 Press Release (ePRNews.com) - Albany, NY (USA) - May 29, 2017 - REDMOND SkyCooker RMC-M800S-E is a unique multicooker with a remote control that works via the mobile Ready for Sky application on your smartphone. You can start the program from anywhere you like. It might be the same room or the other side of your town.
Install the free Ready for Sky app on your smartphone from the AppStore or Google Play, synchronize the multicooker with the app, and get  remote access to all programs and functions of the multicooker.
To control the multicooker at any distance you will also need to have a gateway being left next to your multicooker. The gateway is an "at-home" Android-smartphone with the installed free R4S Gateway app that will receive your commands via Wi-Fi or GSM Internet and will transfer it to the M800S-E.
Thanks to the Ready for Sky app you cando two things at once. For example, work in the office and cook lunch for your child or exercise and make dinner for your family at the same time.
Start cooking in one click from the cookbook integrated into the app. The multicooker will set both the program and cooking time for the selected dish automatically.
What is more you will receive notifications about the end of the cooking program. You may also correct the multicooker operations. For example, if you need to stop by the store on the way home the multicooker has the option to start cooking later.
The convenient MASTERCHIEF Lite function is available via the app. This function will help you to adjust the cooking time and temperature on any automatic program.  Do you prefer steamed dishes al dente? Readjust the program according to your taste and the multicooker will cook just the way you like it.
The set REDMOND SkyCooker RMC-M800S-E includes: 
5-litre bowl with non-stick ceramic coating


S

team container with adjustable volume

deep fry basket

measuring cup 

serving spoon and stirring paddle

printed cookbook "100 recipes" 
Enjoy your dinner in one click with the REDMOND multicooker SkyCooker M800S-Е.
FURTHER INFORMATION
Official web-site redmond.company/uk
Press room redmond.company/uk/pressroom
Press contact:
Helen Bertran PR manager marketing@redmond.company
Source :
Canestrier Ekaterina