Reveal your hidden talent of a chief cook with REDMOND multikitchen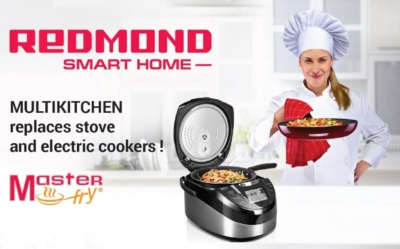 Press Release (ePRNews.com) - ALBANY, N.Y. - Jun 08, 2017 - A happy future begins today with a good tone and perfect mood. It's not a secret that good health guarantee is a healthy diet. But it may be news to many people that a way to a healthy diet is shorter and more pleasant than it may seem.
Healthy diet food doesn't only contain boring oatmeal or tasteless salad. Balanced diet can be varied if you choose a creative approach to cooking. Is it difficult to find time for cooking experiments, keeping your routine rhythm of life?
MasterFry® technology patented by REDMOND facilitated creation of an advanced innovative appliance – Multikitchen. Multikitchen features a unique construction of the heating element in the floor, which can be elevated. It turns the appliance into a programmable electric oven of a new generation. Multikitchen can completely replace a standard set of a cooktop, an oven and a multicooker.You can easily lift the heating element and put any utensils of a suitable size on it, e.g. cook in a frying pan, boil a kettle or heat in a sauté pan. All automatic and manual programmes of the device are functioning at both positions of the heating element.
The modern multikitchen will help you embody any cooking idea! It makes cooking quite simple – just put the ingredients into the bowl, press the button – and the smart device will do the rest. It turns cooking even the most complicated dish into an easy and entertaining activity. Make experiments, reveal your hidden talent of a chief cook or simply enjoy healthy dishes and freedom from cooking on a stove, and the multicooker REDMOND will be working for you.
FOR MORE INFORMATION:
Official web-site: http://redmond.company/us/
On-line shop: https://multicooker.com/us/
Helen Bertran PR manager: marketing@redmond.company
Source :
REDMOND Industrial Group