etventure Releases Study on the State of Digital Transformation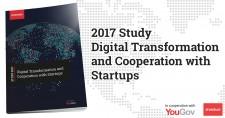 Press Release (ePRNews.com) - New York, NY - May 25, 2017 - In a newly released study, 85% of large companies in the US rate themselves as 'very well' or 'well prepared' for Digital Transformation. However, few of these companies are actually engaged in truly transformational activities.
The study was conducted by the global innovation company etventure, with the support of market research firm YouGov — and targeted senior executives at companies with annual revenues of $250 million per year or greater.
The survey indicates that many companies may be too optimistic about Digital Transformation. While the overwhelming majority of companies surveyed rank digitization as critically important to their business, many activities they classify as Digital Transformation are only incremental changes.
Some other key findings:
Although survey respondents see digitization as business-critical, management of Digital Transformation is directly linked with CEOs only 3% of the time — while 81% of digital initiatives are managed by IT.
90% of companies view their employees as capable of handling the challenges of Digital Transformation.
92% do not see startups as a threat to their business — and only 13% already have some form of cooperation with startups in place.
"There is a great deal of activity in the digital space, but very little of it is truly transformational," says Lukas Bower, CEO North America at etventure. "Our findings show that Digital Transformation is still a side activity for most companies. Developing mobile apps, improving customer experience and digitizing operations are all worthwhile initiatives — but these are only incremental changes. The lack of truly transformational digital innovation is a concern, given the rapid rise of digital disruption across all industries."
To learn more, read the full study, available at www.etventure.com/innovationstudies
ABOUT ETVENTURE
etventure is one of the world's fastest-growing innovation companies. We began in the startup world, and retain our startup pedigree and culture. We help our clients innovate — and use digital technology to transform their business, positioning our clients for the digital future. Learn more at www.etventure.com.  
Media Contact: 
Christian van Alphen 
Phone: +49 89 – 230 69 13 14
Email: christian.vanalphen@etventure.com
Source :
etventure Inc

Business Info :
Etventure
222 Broadway 18th Floor
New York, NY 10038
Phone: 1-877-410-0366
Website:
http://www.etventure.com