Exio Coin the First Sovereign Nation Endorsed Cryptocurrency ICO
Exio Coin is the first decentralized blockchain officially endorsed by a Sovereign Nation, that governs itself by establishing a true digital commonwealth.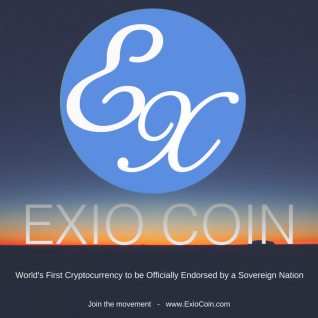 Press Release (ePRNews.com) - LONDON - Aug 25, 2017 - EXIO COIN – THE WORLD'S FIRST CRYPTOCURRENCY TO BE OFFICIALLY ENDORSED BY A SOVEREIGN NATION
London, 25 August 2017 – Exio Coin the world's first sovereign endorsed selfevolving cryptographic currency today announced its ICO will commence on 7th
September 2017 at 12pm UTC.
Exio Coin was built to facilitate formal verification, a technique which boosts the
security of the most sensitive or financially weighted smart contracts by
mathematically proving the correctness of the code governing transactions.
Officially endorsed by a sovereign nation, the Exio blockchain underpins secure,
decentralized applications and smart contracts while avoiding some of the
political and technological problems which earlier efforts such as Bitcoin and
Ethereum have encountered.
Co-Founder Marcus Knight commented, "Exio Coin has been designed with a
focus on security, formal verification and governance. By empowering
stakeholders to make protocol decisions, Exio Coin will continue to evolve, which
is the key to earning trust and generating widespread adoption on the
blockchain."
Co-Founder Sunny Johnson continued, "We are encouraged and excited to have
secured the official endorsement from a sovereign nation which shares our vision
for the widespread adoption of Exio Coin. It is a testament to the team that has
worked tirelessly for the past several years to turn the concept into a reality and
we now look forward to introducing Exio Coin to the wider world beginning with
the ICO on the 7th September."
The ICO fundraiser will last for a period of two weeks. Initial allocation will be
5,000 (five thousand) exios (XCO) for 1 (one) Bitcoin (BTC). In addition to this,
early investor incentives will start at 25% and decrease progressively throughout
this period.
The Exio Coin team will manage the proceeds of the fundraiser and sell
contributions progressively throughout the fundraising period in order to reduce
the risk inherent in holding cryptographic tokens.
The Exio Coin ICO begins on the 7th September at 12pm UTC, to learn more visit
the Exio Coin website.
– ENDS –
For further information:
Contact: info@exiocoin.com
Website: www.exiocoin.com
Twitter: https://twitter.com/ExioCoin
Source :
Exio Coin