Expand ERP Wins the Coveted Great User Experience Award By FinancesOnline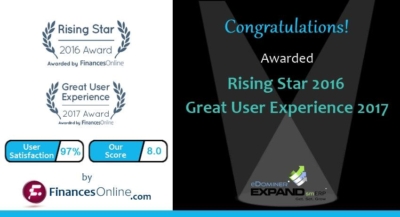 Press Release (ePRNews.com) - CALCUTTA, India - Feb 15, 2017 - Expand ERP from Edominer is at it again. Winning accolades along with admirers who appreciate the effort that Vineet Bansal and his team has put in place to produce an ERP solution of this quality. The latest in a series of achievements is winning the "Great User Experience" Award from FinancesOnline.
Vineet Bansal, the CEO, aptly puts it, "We knew that with the kind of effort we were putting in gaining recognition was just a matter of time. But at the same time, it also humbles us as we know that we absolutely must keep up the work that we are doing. It is a day of celebration for us, the whole team of ExpandERP."
According to FinancesOnline, the Great User Experience Certificate is given for "This award is granted to products that offer especially good user experience. We evaluate how easy it is to start using the product and how well-designed its interface and features are to facilitate the work process." Expand ERP had previously won the Rising Star award from FinancesOnline.
User Experience is one of the most important aspects of any software especially ERPs as the need for training employees to use the ERP is greatly reduced if the User Interface, as well as the whole functionality, is characterized by ease of use. And now, Expand ERP has yet another feather in its hat even in this area.
About ExpandERP
Expand ERP is an affordable, feature-rich, customizable and stable Cloud ERP that even integrates a CRM.
Website : http://www.expanderp.com
Source :
ExpandERP