FigBytes Announces Colin Curtis as New Head of Operations in the EMEA Region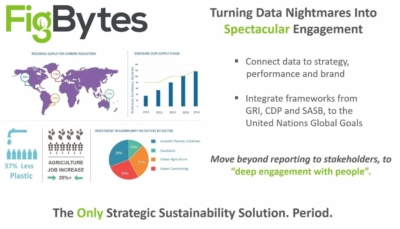 Press Release (ePRNews.com) - GATINEAU, Quebec - Mar 09, 2017 - FigBytes Inc. ("FigBytes" or "the company"), the developer of innovative enterprise, cloud-based integrated sustainability and Corporate Social Responsibility (CSR) software, announced today that they have named Colin Curtis as Head of Operations for the European, Middle East, and Africa (EMEA) regions. FigBytes currently has clients across this region and Mr. Curtis will play a key role in supporting these clients and building new business.
"We are thrilled to welcome Colin Curtis to our team. He will be instrumental in expanding FigBytes reach and brand by providing executive operations leadership from business development, to client implementation," said FigBytes Co-CEO and Head of Strategy, Colin Grant. "Mr. Curtis' extensive of knowledge of technology, in concert with a deep comprehension of sustainability solutions and how to identify and resolve clients' pain points, provides great strength to our team. Additionally, his deep knowledge of the United Nations Global Goals framework means he will be ideally positioned to lead implementations of the new UN Global Goals functionality in FigBytes. We are fortunate to include him in our growing organization and look forward to adding his expertise and dedication to delivering excellence to our clients and our brand."
Mr. Curtis is the founder and Strategy Director of TBL Services and former Director of Sustainability for Dimension Data, a global IT company. He adds to this, 25 years in diverse senior roles, including services, product management, business development, marketing, and HR. He stated, "I first saw the FigBytes platform two years ago, and was struck by how revolutionary it was. Every organization that's serious about being sustainable and supporting the United Nation's Global Goals, or any other sustainability framework, needs to take a look at it – it's completely unique. I'm really excited to introduce businesses and cities in EMEA to a new way to plan, manage, and communicate their sustainability performance."
In his role at FigBytes, Mr. Curtis will work closely with the company's Canadian-based executive team and lead a high-performance team of sales and services experts in the EMEA region who will help companies, cities and non-profits simplify the complex business of balancing people, planet, and profit using the best technology available in the market.
For information or a product demo, email info@figbytes.com or visit figbytes.com (https://mygrowfund.org/)..
About FigBytes
The FigBytes Sustainability Platform is cloud-based software that empowers corporations, cities, and other organizations to integrate the principles of environmental sustainability and corporate social responsibility (CSR) into core strategies, performance, brand. FigBytes replaces outdated, disconnected reporting tools with a cloud-based system that can transform raw data into intuitive and beautiful visualizations of strategy, performance, and brand.
Media Contact:
Lillian Grant
FigBytes Inc. lgrant@figbytes.com (mailto:tdhillon@figbytes.com)
Source :
FigBytes