Filmmaker Releases Website to Prevent Intimate Partner Homicide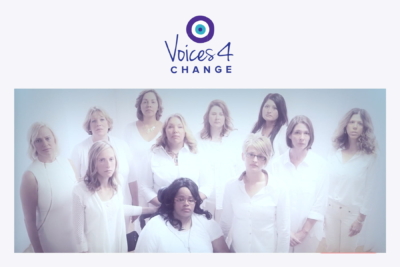 Press Release (ePRNews.com) - READING, Pa. - Mar 05, 2020 - Each year, 50,000 women are murdered by their partners or family members worldwide and, in the United States, the rates of intimate partner homicide are quickly rising. In most cases, these murders are predictable and preventable. Voices4Change.net offers online training, discussion forums for survivors and professionals, and a portal to FINDING JENN'S VOICE, the award-winning documentary film that examines the risks of homicide during pregnancy and reveals the nature of abusive relationships by looking beyond the black eye. 
In 2011, social-worker-turned-filmmaker Tracy Schott received a life-changing phone call from a friend whose pregnant niece had been murdered by her married boyfriend. A quick Google search brought Tracy to a study showing homicide to be the leading cause of death to pregnant women. Outraged by the information and the lack of media attention to this research, Tracy started a four-year journey that included interviewing leading researchers in domestic violence and meeting survivors of intimate partner homicide attempts.
Since its release, FINDING JENN'S VOICE has been viewed by thousands at conferences, screenings and colleges with universally positive response and documented changes in understanding of the issues. Voices4Change.net provides an opportunity for the film to reach millions worldwide. Says Schott, "I believe in the power of storytelling to create social change. With this new website, we hope to change the horrific statistics and consequences of intimate partner violence by creating awareness and providing the tools for change."
Schott has partnered with 1GEN, an India-based company whose mission is to make the world sustainable in one generation by using technology and storytelling in support of mission-driven organizations. Says 1GEN founder and President Paul Singh, "Team 1GEN is honored to be part of Tracy's vision of bringing this digital platform to life. We believe Voices4Change.net will help raise awareness about this important topic and amplify the efforts to create a positive shift."
International Women's Day is celebrated each year to amplify the voices of women and create a path to equality. Says Schott, "One in three women worldwide experiences intimate partner violence. Economic and political equality will never be reached until women are safe in their own homes. With Voices4Change, we empower survivors of violence by elevating their voices and creating a space where we can all learn from their experiences."
Voices4Change was created by Tracy Schott, MSW, MS, owner of Schott Productions. Ms. Schott worked as a child and family therapist, specializing in child abuse cases for 15 years. In 2000, she made the unusual career change to film and video production with a goal of creating social change through media. She opened Schott Productions in 2011 just weeks before learning of Jenn's murder. Schott Productions is based in Pennsylvania. 
Contact:
Tracy Schott
tracy@schottproductions.com
610.698.2082
Source :
Voices4Change

Business Info :
Schott Productions
1096 Grange Rd
Leesport, PA 19533