Five Things to Consider When Looking for Ramadan Tents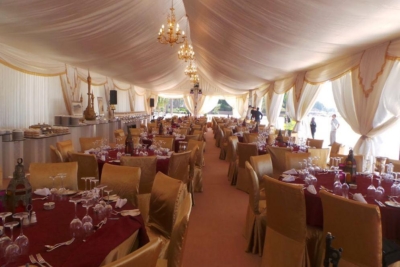 Press Release (ePRNews.com) - DUBAI, UAE - May 18, 2017 - Ramadan is one of the five pillars of Islam and the most widely celebrated religious events of the year. The month-long observance is not only a time of worship but also of personal reflection and sacrifice. During this time, Muslims all over the world submit to regular prayer and fasting during the day.
However difficult it may seem for non-Muslims to understand, the age-old tradition is a delightful feast before sunrise and after sunset. The early morning feast called Suhoor is traditionally spent with family while the Iftar buffet, known as the sunset feast, is commonly celebrated in Ramadan tents around metropolitan Dubai.
Today, private Ramadan tents are banned in Dubai for safety reasons. However, if you're in the hotel industry or a charity association and planning to set up your own Ramadan tent, here are five things to tick off your checklist!
1. Quality
There's a reason why this is number one on our list! Many manufacturers and suppliers offer clients tents for cheap prices. However, this could mean compromising on the quality! In fact, there are times when the material is cheap and the quality is so low that customers are faced with more problems than solutions. Make sure to check the quality and sturdiness of the tent you're ordering. While it's not bad to save on costs, quality should never take a back seat!
2. Weather capability
The weather in Dubai is typically dry, particularly during the Ramadan season. It rarely rains in the metropolitan city. However, there are days when it is windier than most. Always consider the weather when planning your Ramadan buffets and order a tent that can stand the conditions!
3. Capacity
When planning a Ramadan event, it's not enough to consider the guest capacity of the tent. You also need to consider the tables, chairs, aisles, and other factors. Don't overcrowd your tent! If you're expecting a lot of people, then naturally you would need a bigger than a normal tent. Remember, it's better to have space allowance than having a cramped Ramadan tent in a city like Dubai!
4. Ventilation
Ramadan typically falls on the early months of the summer. Thus, the weather is often dry, windy, often times humid, and for many, uncomfortable. Consider carefully the ventilation of the tent that you'll be using to host your event. Would it be open air with no walls? Would it be an enclosed space? A well-ventilated Ramadan tent can not only make the guests happy but also convince them to keep coming back!
5. Versatility
Now we know that tents aren't exclusively made for Ramadan. Thus, you must consider the versatility of the tent. Can you use the same tent for other events and gatherings? Contact a tent supplier like Artisan Tents to provide you with world-class, high-quality tents that you can use for any occasion! From custom-made tents to rentals, Artisan Tents can take care of it for you!
Whether you're planning a grandiose Ramadan feast in Dubai or another emirate in UAE, Artisan Tents can provide the best tents for your needs. Our prices are pocket-friendly, the tents' materials astounding, and we guarantee you the best of your money's worth. Remember, high-quality tents don't have to be bank-breaking!
http://www.artisantents.ae/products/tent-solutions/arabia…
Source :
artisantents.ae