FlipBuilder's PDF Flipbook Creators Greatly Boost Content Digitization
FlipBuilder launches its PDF flipbook creators to help people solve their digital publishing problems, making flipbooks accessible anytime, anywhere on digital devices.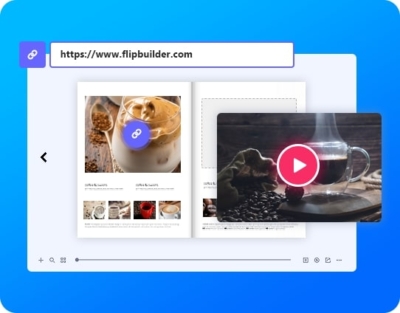 Press Release (ePRNews.com) - Hong Kong, China - Dec 28, 2022 - Flip PDF Plus, Flip PDF Plus Pro, and Flip PDF Plus Corporate are all developed by FlipBuilder, and each PDF flipbook creator comes with both Windows and Mac versions, maximizing the reach of the user base. FlipBuilder regularly updates its software programs to make them more user-friendly, striving to build a one-stop digital publishing platform for users from all walks of life.
The three PDF flipbook creators are designed for people with different types of needs. Flip PDF Plus meets the basic needs for digital flipbook conversion, beautification and publication.  Directly launch the program and import PDFs or images from the computer, then customize the converted flipbook with built-in templates, background themes, and animated scenes, and finally choose one of the formats from HTML, EXE, APP, etc., to publish it. Besides, Flip PDF Plus supports adding a logo to the flipbook to make it professional in marketing campaigns or distinctive for personal use.
The PDF flipbook creator Pro edition not only has the features of Flip PDF Plus, but is equipped with a powerful editor that enables users to recreate their flipbooks by inserting multimedia elements. Videos, audio, animation effects, trigger actions, etc., will help to vividly demonstrate detailed content within a limited layout. Also, a code for Flip PDF Plus Pro is available on two computers. Compared to the two previous versions, Flip PDF Plus Corporate offers six more Corp templates, more multimedia elements for users to apply directly, and more flexible multi-seat purchase options.
FlipBuilder provides users with an add-on hosting service to upload flipbooks, which helps expand the readership of flipbooks. In this way, readers can view books online anytime, anywhere in the browser on the device in their hands. Every PDF flipbook creator offers high-security protection for digital publications. To avoid information disclosure, FlipBuilder employs Amazon S3 service to protect user data and allows users to set passwords as well as authorization IDs to build dual protection.
"Our easy-to-use PDF flipbook creators are constantly being updated to deliver users premium desktop publishing solutions. Please stay tuned on FlipBuilder," says Winston Zhang, CEO of FlipBuilder.
For further information on these three PDF flipbook creators, please visit FlipBuilder.
About FlipBuilder
FlipBuilder has been working for years to streamline the digital publishing process and has provided users with easy-to-use desktop publishing tools that make digital content creation and publishing a breeze.
Source :
FlipBuilder Software Co., Ltd.