FlipHTML5 Launches a PDF to Flipbook Converter for Easy Publishing
FlipHTML5 is famous for producing customized flipping books. The online portal has chosen to broaden the scope of its offerings by introducing a PDF to flipbook converter to enhance the reader's total online reading experience.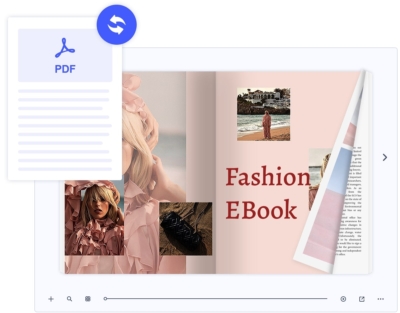 Press Release (ePRNews.com) - Hong Kong, China - Apr 25, 2023 - A PDF to flipbook converter has become increasingly popular among those wanting to promote goods or convey their company's values. Businesses are taking advantage of this tool to connect with different audiences by making interactive material and expanding their chances of gaining more customers. The easy-to-use features available in the FlipHTML5 PDF to flipbook converter make it simple for people from all walks of life to create and publish their digital publications with ease. What makes FlipHTML5 stand out is that it allows users to add links, explanatory videos, photo galleries, and more to interact with readers.
More and more publishers rely on FlipHTML5 to make HTML5 flipbooks more interactive. Its PDF to flipbook converter turns PDFs, Words, PPTs or PNGs and JPGs into web-friendly flipbooks, which is suitable for users to create digital brochures, magazines and catalogs.
FlipHTML5 provides an intuitive interface for creating flipbooks with its PDF to flipbook converter. With it, users not only can turn their static files into dynamic flipbooks, but they are allowed to add a wide range of interesting multimedia elements, like animations, to bring the content to life and attract readers. What's more, finished flipbooks can be embedded into web pages and viewed on smartphones and other digital gadgets. In this era of advanced technologies, one-click features catch more attention of the users since it saves both time and energy.
Users can utilize this PDF to flipbook converter to improve readers' engagement and shopping experiences in catalogs, brochures, and other digital publications by adding hotspots, hyperlinks, and more. The converter also allows users to combine multiple PDFs into dynamic flipbooks with their own domain names and virtual shelves for website sharing. Additionally, they can add their logo images to the flipbooks for more effective branding.
"It's simple to convert PDF files into HTML5 flipbooks on FlipHTML5," CEO of FlipHTML5, Winston Zhang continued, "Users can develop captivating, interactive, shareable, and user-friendly flipbooks that appeal to audiences online. And we will continue to improve the performance of this PDF to flipbook converter to benefit worldwide users."
To take a closer look at this PDF to flipbook converter, please visit FlipHTML5.
About FlipHTML5
FlipHTML5 is an online publishing platform developer that offers free auto-publishing solutions to a sizable number of users globally. It helps people from all walks of life to create, polish and publish digital magazines, interactive brochures, product catalogs, and more
Source :
FlipHTML5 Software Co., Ltd.