Four Leaf Properties Announces '5 Affordable Homes' Open House Tour & Learning Event; Muskegon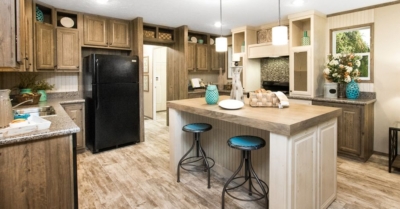 Press Release (ePRNews.com) - MUSKEGON, Mich. - Jun 12, 2017 - Four Leaf Properties, a growing manufactured home community owner/operator in the Midwest and Texas, announces it's '5 Affordable Homes' Open House Tour and Learning Event to help lifetime renters become homeowners in Muskegon.
On June 17th, Four Leaf Properties' Norton Shores Community is offering a '5 Affordable Homes' Open House Tour and Learning Event to showcase a completely new, designer-decorated, energy-efficient type of manufactured home. The homes feature open floor plans, designer kitchens with custom cabinetry and appliances. With outdoor living space, a driveway and storage shed, the homes are perfect for growing families and downsizers who are looking to take life easier. More affordable and higher quality than apartments, these homes offer low monthly payments, 24-hour on-site maintenance and lifestyle amenities like a clubhouse, community events and a playground.
"We are hosting our '5 Affordable Homes' Open House Tour to educate folks on this totally new type of housing. The homes are beautiful — and living in a safe, clean community on top of that offers a massively better lifestyle for families and retirees on a fixed income," owner Michael Callaghan said. "At our event, we are going to teach people about the homes, the lifestyle and share insights into the fast and easy credit process. Manufactured homes have been totally reinvented and we want to share our excitement."
The Open House Tour and Learning Event will be held on Saturday, June 17th from 9:00-2:00.
Norton Shores Community
3223 Bailey Street
Muskegon, MI 49444
888-895-2351
About Four Leaf Properties
Four Leaf Properties is one of the largest manufactured housing community owner/operators in the nation with communities in Michigan, Indiana, Illinois and Texas. Four Leaf Properties has been in business since 2009. The company owns and operates 20+ communities with over 6,000 home sites and many more acres for new site development.
Committed to reinvestment, Four Leaf Properties works every day to improve and grow safe, professionally managed communities.Investments in amenities, community events and everyday management creates an environment where residents can put down roots and take pride in their neighborhoods at all stages of life. Four Leaf Properties also offers affordable home ownership with beautiful, high-quality homes featuring modern floorplans and luxury finishes. Bringing together strong communities with beautiful new, affordable homes, Four Leaf Properties aims to make manufactured living an uplifting and positive housing option. To learn more, visit www.fourleafprop.com. (http://www.fourleafprop.com/)
Source :
Four Leaf Properties