GEO Jobe Gives Second Donation to Gulfport High School's Robotics Team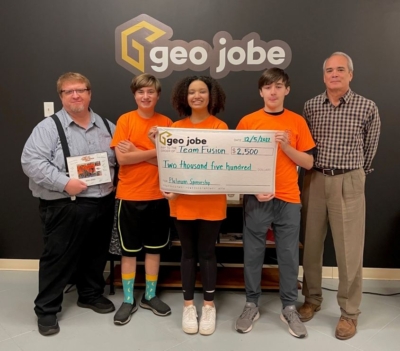 Press Release (ePRNews.com) - GULFPORT, Miss. - Jan 12, 2023 - GEO Jobe is proud to announce the sponsorship of Gulfport High School's Team Fusion Robotics team #364. This is GEO Jobe's second sponsorship and allows the Team to continue to grow in the fields of science, technology, engineering, and mathematics.
In 2019, Team Fusion was the only team from Mississippi to qualify for the FIRST World Championship and ended the season placing 13th in the world out of approximately 4,000 teams! Unfortunately, Covid-19 canceled 2020 in-person competitions, but the team was still able to compete in virtual competitions, which lead to the team being ranked number 2 in the world! The 2021 season was also filled with success. The team was a finalist in two regional competitions, along with winning a third, which automatically advanced them to Worlds. At these competitions, the team's robot won awards for Industrial Design, Innovation in Control, and the Quality Award, both at a regional competition and in their division at Worlds.
Team Fusion's program utilizes robots to build better minds and future leaders. GEO Jobe's sponsorship allows the team to grow and learn teamwork, work management, communication, and participate in public outreach.
"I had the privilege of speaking with some of the young men and women of Team Fusion. It is inspiring to see them so interested and excited about their potential career fields in STEM and the work they are doing on the robotics team. GEO Jobe will continue to support Team Fusion and programs like this with the vision of increasing tech opportunities and bolstering communities in Mississippi." – Danny Menikheim, Vice President of Operations at GEO Jobe
GEO Jobe is delighted to be a sponsor to a team of bright, young individuals who are making advancements in the field of science, technology, engineering, and mathematics. We look forward to seeing their achievements this year and many years to come.
About Team Fusion
Team Fusion is one of Mississippi's premiere FIRST robotics teams open to students from schools all along the coast. FIRST (For Inspiration and Recognition of Science and Technology) is an internationally acclaimed organization that hosts an annual robotics competition with more than 200,000 high school students competing on a global scale.
About GEO Jobe
GEO Jobe is a leading GIS software and geospatial solutions provider, serving almost 9,000 organizations globally. GEO Jobe has developed some of the most popular applications in the ArcGIS Marketplace, including Admin Tools for ArcGIS, Backup My Org, Clean My Org, and Mapfolio. GEO Jobe also offers professional services centered around Esri's ArcGIS System, including custom software development, enterprise solution implementation, and UAV data collection. Founded in 1999, GEO Jobe is in its 23rd year of operation and has been an Esri business partner since 2002, and is currently a Gold Partner.
Contact:
@geojobegis

Business Info :
GEO Jobe
256 Jackson Meadows Dr
Nashville, Tennessee - 37076 United States
Phone: 844-436-5622
Website:
http://www.geojobe.com