Glass Artist April Wagner Exhibits at EastEnd Studio and Gallery This Month
The new glass exhibit entitled Heat and Pressure by artist April Wagner at the EastEnd Studio and Gallery, 143 W. Michigan Ave, brings the fire of epiphany glass studio to mid-Michigan, now through July 2, 2017.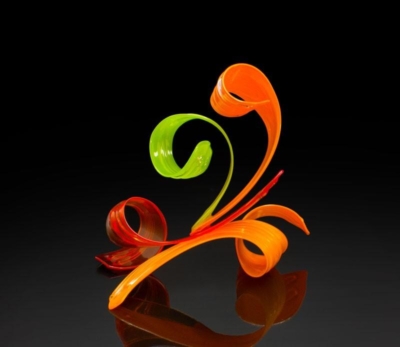 Press Release (ePRNews.com) - LANSING, Mich. - Jun 07, 2017 - Heat and Pressure explores the many ways in which glass can be manipulated through its various phases, using 2,000 degree furnaces, applied pressure, gravity and force to create elegant shapes and vibrant colors. Many of Wagner's pieces are inspired by her love of nature, and she notes, "Everything in nature is beautifully designed and that design serves a function, color, scale and form."
In her artwork, the vibrant colors, hues and shades of glass combined with the fluidity and flexibility of the medium, come together to provide limitless interpretation of the natural world through glass art.
"I am intrigued by the process of blowing glass into linear and organic shapes," said Wagner. "Then I play with them in space. By turning, twisting, or repeating the shapes I investigate their relationship to floor, wall, or tabletop. In creating multiples and assembling the shapes together, almost like found objects, I create large scale pieces. I use color to push and pull the eye around or up and down the piece.
"My intension is to create objects that are captivating to look at in their environment. Whether a private, public, or corporate space I choose the colors, shapes, and scale of the work in direct response to that specific environment and that viewer. Ultimately the viewer must consider the fragility, strength, and beauty of this material."
The EastEnd Gallery is open Tuesday through Saturday 10am-5:30 pm and Sunday 12 pm-4 pm. For more information, call (269)789-2379.
epiphany glass studio, www.epiphanyglass.com (http://www.epiphanyglass.com/), is a state-of-the-art, 4,000 sq. ft. glassblowing studio and gallery located in Pontiac, Michigan. Since 1997, epiphany's distinctive look has been created by artist and owner April Wagner. Wagner adds a contemporary twist to the traditional fazzoletto technique, which originated in the Venini factory of Murano, Italy, during the 1930s and was later popularized by Seattle glass artists. Her work is found in many public and private collections, including those of GM, Pfizer, Strategic Staffing Solutions, Vladimir Putin, Goldie Hawn and Kate Hudson.
Located in downtown Marshall, Michigan, EastEnd Studio and Gallery is the largest nonprofit gallery in the state of Michigan, offering over 3,000 square feet of show space, as well as a formal exhibition room. The Gallery exhibits paintings, sculpture, photography, as well as jewelry and decorative fine art pieces. EastEnd is also home to an art education department that offers classes for youth and adults.
Source :
epiphany glass studio