Goodwill Industries of Southwest Florida expands Give Back Box tool to encourage ecommerce shoppers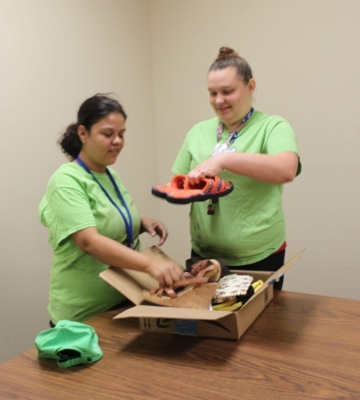 Press Release (ePRNews.com) - NAPLES, Fla. - Feb 23, 2017 - Goodwill Industries of Southwest Florida is participating in a promotional test during the next two weeks in partnership with Amazon, Prime Pantry, an ecommerce program that allows Amazon customers to order grocery and household supplies directly to their doorsteps. Box inserts will encourage pantry recipients to reuse the boxes to make donations directly at their nearest Goodwill.
This sample program will begin immediately and run for a two-week period through the end of February.
"The Give Back Box platform is just one tool in our toolbox that we've been using to keep things out of landfills," says Jennifer Nelson, Senior Director of Operations for Goodwill Industries of Southwest Florida, Inc.
For the past year-and-a-half, Goodwill has partnered with several retailers to make it easier for customers to reuse the sturdy boxes, and as a result, to boost its donations of discarded goods.
Here's how it works: When someone shops online at certain retailers, they can print a free shipping label at www.givebackbox.com and re-use the empty retailer box to donate to Goodwill. Goodwill pays for the shipping.
"We get a sixty percent return on our investment," Nelson says.
The average box arriving at Goodwill's Opportunity Center in Fort Myers contains $33 in sellable merchandise.
The trial period is supported through Goodwill Industries International.
ShopGoodwill.com
Goodwill also has its own ecommerce customers who purchase through ShopGoodwill.com. The Give Back Box model will soon be duplicated for their own ecommerce customers.
"We already encourage them to shop online with us again, so it just makes sense to encourage our customers to return our boxes with donated items," Nelson says.
Online purchasers at ShopGoodwill.com have options. They can pick up their items locally at a call window or have them shipped.
"We are solving two disposal issues: reusing the cardboard box and gaining donations to recycle through our retail and e-commerce sites," says Jorge Varona, Goodwill's Director of E-Commerce.
Shredding/Compacting Operations
At some point, even a cardboard box has a limited lifespan and it's time to dispose of it. Goodwill can take care of that too.
"We accept donations of cardboard that we put into a compactor. We also operate a secure paper shredding business," says John Longridge, the Goodwill Secure Shred Manager.
Paper can be dropped off for $6 per garbage bag or box. There is no charge for dropping off cardboard.
"Donations for our retail stores often arrive in boxes so we are able to compact those and sell the cardboard on the commodities market," Longridge adds.
Being a model for sustainability in the community is important to Goodwill because the revenue raised supports its mission, which is to help people with disabilities and disadvantages by offering life-changing opportunities to achieve independence. Goodwill's programs in Southwest Florida include Pathways to Opportunity and Pathways to Work, Job-Link resource centers, small business training classes, disability-accessible housing, the Goodwill L.I.F.E. Academy charter school, and more.
Private tours of its Opportunity Center campus are available to interested groups by appointment.
Goodwill Industries of Southwest Florida, Inc. is a 501(c)(3) nonprofit organization that serves Collier, Lee, Charlotte, Hendry and Glades Counties.
To learn more about the Give Back Box, visit http://www.goodwill.org/givebackbox. For more information about Goodwill Industries of Southwest Florida, please visit http://www.goodwillswfl.org or call (239) 995-2106.
Source :
Goodwill Industries of Southwest Florida