Grand Inauguration of ASSET HILLCREST Thames, Vattiyoorkavu Thiruvananthapuram
ASSET HILLCREST Thames, the brand new project of ASSET Homes and it going to inaugurate the popular film actors Mr. Prithviraj Sukumaran along with Adv. V K Prasanth, Honorable Mayor of Trivandrum.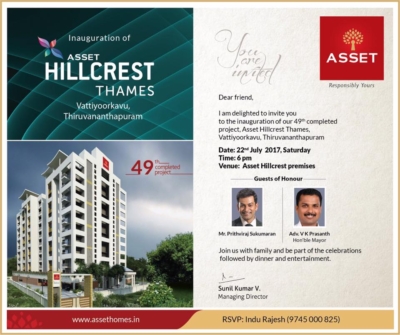 Press Release (ePRNews.com) - KOCHI, India - Jul 20, 2017 - ASSET Homes the responsible builders in Kochi, now proudly make the grand inauguration of their 49th project ASSET HILLCREST Thames. The function will be held on 22nd July 2017, Saturday at 6 pm on ASSET Hillcrest Premises, Vattiyoorkavu Thiruvananthapuram. This is the 49th completed project of ASSET Homes, and the project is one of the perfect examples for fluent design features and natural luxury.
Vattiyoorkavu has lots of historical importance. The place was one of the conspicuous locations in a chronicle from the days of the Rajas who ruled the land. It assumes the typical perspective in history as the place from where the stones to construct Sri. Padmanabha Swamy Temple was mined. This high lying, greenest portion of the city is an essential link that connects it with the outward areas. ASSET HILLCREST at Vattiyoorkavu Placed around 7 km from the city's center, the place offers the correct platform for living a pleasant life, in its vicinity. The thriving city has already left its foot prints in this town too.
To know more visit http://www.assethomes.in/
Source :
ASSET Homes

Business Info :
Asset homes
G-129,28/34 A, Panampilly Nagar, Kochi-36,Kerala.
Cochin,Kerala,000036
Phone: 9846 499999, +971 55 6795 000, +974 3129 1634
Website:
http://www.assethomes.in