Grant will help enterprising women at Naples shelter with workbook costs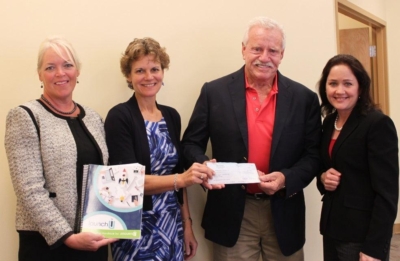 Press Release (ePRNews.com) - NAPLES, Fla. - Feb 23, 2017 - You wouldn't know it by looking at her, but Naples resident Julie Pekrul is a domestic abuse survivor. When she lived in another state, a shelter provided the support and care she needed to get back on her feet.
"Domestic violence happens all the time. It crosses all socio-economic lines," Pekrul says. "I'm a perfect example of that."
A financial advisor for a Naples investment firm, Pekrul found joy in giving back to her adopted Collier County community.
She became a volunteer mentor with Goodwill Industries of Southwest Florida in its MicroEnterprise Program, which provides aspiring small business owners with the skills they need to succeed as entrepreneurs and become more independent.
"I'm a big proponent of education. Once you have it, no one can take that away from you," she says.
A year ago, she began co-facilitating MicroEnterprise classes at The Shelter for Abused Women and Children in Naples. She quickly learned the $68 workbook cost is a barrier to independence, so she approached Robert Cahners, a shelter patron, for help. Cahners agreed to donate $5,000, adding that he admires the transitional nature of the shelter.
"I think it's a very empowering approach that they're doing at this shelter," Cahners said.
Goodwill Industries of Southwest Florida will use the grant to purchase workbooks for the next five years, so shelter residents may receive free books when taking the business classes.
"Julie has always been an asset to the program as a coach and facilitator, but taking on a fundraising role is such a bonus to this particular program, we can't thank her enough," says Dorothy Browning, Community Education Manager for Goodwill.
Goodwill Industries of Southwest Florida, Inc. is a 501(c)(3) nonprofit organization that serves Collier, Lee, Charlotte, Hendry and Glades Counties. The agency's mission is to help people with disabilities and disadvantages by offering life-changing opportunities to achieve independence. For more information, visit http://www.goodwillswfl.org.
Source :
Goodwill Industries of Southwest Florida, Inc.

Business Info :
Goodwill Industries of Southwest Florida, Inc.
Goodwill Opportunity Center 5100 Tice Street
Florida - 33905 United States
Phone: 2399952106
Website:
http://www.goodwillswfl.org