Hanley Investment Group Completes Sale of Grocery-Anchored Shopping Center for $17.2 Million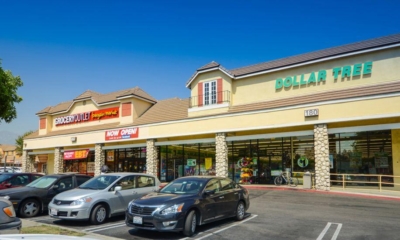 Press Release (ePRNews.com) - CORONA DEL MAR, Calif. - Feb 14, 2017 - Hanley Investment Group Real Estate Advisors, a nationally-recognized real estate brokerage and advisory firm specializing in retail property sales, announced today that the firm completed the sale of Upland Village, a 60,857-square-foot grocery-anchored shopping center in Upland, Calif. The sale price of $17.2 million represented a cap rate of 5.83 percent,a record low cap rate for a stabilized grocery-anchored shopping center in the Inland Empire. Grocery Outlet and Dollar Tree anchor the neighborhood retail center.
Hanley Investment Group President Ed Hanley and Executive Vice President Bill Asher, along with the seller's exclusive advisor Joe Miller, a vice president at Voit Real Estate Services of Anaheim, Calif., represented the seller, Outpost Village, LLC, based in Orange County, Calif. The buyer, a southern California-based private investor, was represented by Peter Loh of RE/MAX Realty 100 of Diamond Bar, Calif. and Paul Yang of RE/MAX Vantage of Eastvale, Calif.
Built in 1972 on 3.92 acres, Upland Village is located at 110, 130, 140 and 180 Mountain Avenue, at the northeast corner of Mountain Avenue and West 8th Street in the city of Upland in San Bernardino County. The neighborhood shopping center was 100 percent occupied at the time of the sale. Grocery Outlet and Dollar Tree represent over 50 percent of the occupied square footage.
"We procured multiple competitive and qualified offers and were able to close at 99 percent of the list price despite rising interest rates during the escrow," said Asher.
"Upland Village offered a 100 percent-occupied, grocery-anchored shopping center with a synergistic mix of national and regional tenants in a dense, infill Southern California location," said Asher. "Approximately 71 percent of the current tenancy had occupied space at the shopping center since 2010 or before and 60 percent of the tenants had more than five years remaining on their current term."
According to Asher, Grocery Outlet having a new long-term corporate guaranteed lease and Dollar Tree having occupied its space at the property for 10 years and recently exercising its five-year option, were key attributes to the asset that attracted a multitude of investors to the property.
"With interest rates increasing 50-75 basis points in the last three months, Upland Village could very well represent one of the last stabilized grocery-anchored shopping centers to sell for a sub-six percent cap in San Bernardino and Riverside counties," commented Asher. "Interest rates are going to have a substantial impact on values moving ahead for anchored shopping centers priced at $10 million and above in the Inland Empire. Unless there are compelling metrics such as reported high-volume store sales for anchor tenants within the shopping center, we anticipate values for the similar type of assets like Upland Village to transact at a six-percent cap and above moving ahead, if interest rates continue to stay at their current levels."
Hanley adds, "Neighborhood shopping centers with successful grocers that satisfy the daily and weekly needs of consumers are a great hedge against an economic downturn. This type of well-located shopping center will continue to be in high demand across southern California and the U.S. for the foreseeable future."
About Hanley Investment Group
Hanley Investment Group Real Estate Advisors is a retail investment advisory firm with a $5 billion transaction track record nationwide, who works closely with individual investors, lending institutions, developers, and institutional property owners in every facet of the transaction to ensure that the highest value is achieved. For more information, visit www.hanleyinvestmentgroup.com (http://hanleyinvestmentgroup.com/).
Source :
Hanley Investment Group