Historic Corbin Mill Ready to Serve Next Generation
Old Mill Building in Liberty, Mo., Offers Variety of Investment Opportunities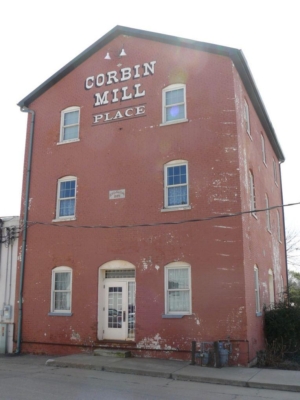 Press Release (ePRNews.com) - KANSAS CITY, Mo. - May 03, 2017 - With only four owners since its construction, the Corbin Mill in Liberty, Mo., is for sale for the first time in 30 years.
Built in 1889, The Corbin Mill served as a flour mill on land given by a presidential grant to those displaced by the New Madrid earthquake in the early 1800's. It was purchased in 1922 by Farmers Marketing Company and became a feed mill. It changed ownership several times after 1945. Since then, many features were added, including a 5,000 square foot warehouse. The mill now totals 14,450 square feet and due to current owners restoring many of the original features, today it looks a lot like it did in 1889.
"Historic buildings with the type of back story and history similar to the Corbin Mill are very difficult to find" said Shawn Terrel, broker/owner of United Country Real Estate | Kansas City Auction and Realty. "The typical investor we deal with on projects such as this tend to be more visionaries which may leverage the historical prominence while retrofitting the property for a new audience."
Although primarily used as an artisan retail space and as a restaurant, it holds a lot of opportunity as a commercial property in a booming market. It has the space and ability for a bar and restaurant, bed and breakfast or micro-brewery. Liberty is a rapidly growing suburb of Kansas City, Mo., with more than 30,000 residents. It was also voted as one of the "Best Places to Live" by Money Magazine.
Current owners Tom and Sandy Williams invite the public to come visit their piece of history. It's located a block south of the courthouse square in Liberty. It is currently for sale by United Country Real Estate | Kansas City Auction and Realty.
For more information about this property and others for sale in the area, visit www.UC-KC.com or call 816-420-6257.
About United Country Real Estate
United Country Real Estate (http://www.unitedcountry.com/) – a division of the United Real Estate Group – is the leading, fully integrated network of conventional and auction real estate professionals. The company has been an innovator in lifestyle and country real estate marketing since 1925. United Country supports nearly 500 offices and 5,000 real estate professionals across four continents, with a unique, comprehensive marketing program. The exclusive program includes the highest ranked and largest portfolios of specialty property marketing websites, unequaled national print advertising, the largest internal real estate advertising agency, an extensive buyer database of more than 650,000 opt-in buyers and additional proprietary programs to advertise properties more broadly.
Source :
United Country Real Estate

Business Info :
United Country Real Estate
2820 NW Barry Road
Kansas City, Missouri - 64154 United States
Phone: 800-999-1020
Website:
http://www.unitedcountry.com/