Domino's Signs 182,000-Square-Foot Lease for New Jersey Warehouse
Newly Built Facility to Serve as Distribution Center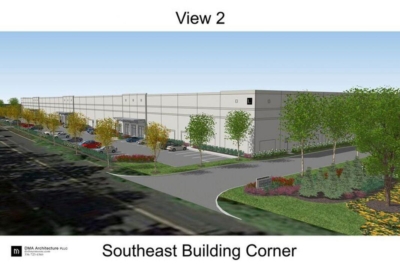 Press Release (ePRNews.com) - EDISON, N.J. - Jun 05, 2017 - Domino's has signed a 182,000-square-foot lease for a new warehouse in New Jersey, developed by Liberty Property Trust, to serve as a food processing and distribution center.
Ken Ashley, John Wilkinson, Sam Hollis and Whitney Hembree of Cushman & Wakefield's Atlanta office, along with Matt Marshall and Jeff Williams of Cushman & Wakefield's Philadelphia office, represented the tenant in the lease transaction. Chuck Fern of Cushman & Wakefield's Iselin, New Jersey, office represented the landlord.
"The Cushman & Wakefield team's execution was outstanding," said Mark Goldstein, Vice President/Market Officer of Liberty Property Trust. "Chuck Fern not only represented Liberty in this transaction, but was instrumental in securing the land necessary for this development."
The property is located at 1075 King George Post Road in Edison, New Jersey, just 1.5 miles from Exit 10 off the N.J. Turnpike and I-287.
"Cushman & Wakefield is pleased to support Domino's in their exciting growth and continued expansion here in the United States," said Ashley, Executive Director of Cushman & Wakefield's Office Tenant Representation Group.
About Domino's Pizza®
Founded in 1960, Domino's Pizza is the recognized world leader in pizza delivery, with a significant business in carryout pizza. It ranks among the world's top public restaurant brands with a global enterprise of 14,000 stores in over 85 international markets. Domino's had global retail sales of nearly $10.9 billion in 2016, with more than $5.3 billion in the U.S. and more than $5.5 billion internationally. In the first quarter of 2017, Domino's had global retail sales of nearly $2.7 billion, with over $1.3 billion in the U.S. and nearly $1.4 billion internationally. Its system is primarily comprised of independent franchise owners who accounted for over 97% of Domino's stores worldwide as of the first quarter of 2017. Emphasis on technology innovation helped Domino's reach an estimated $5.6 billion in global digital sales in 2016, and has produced several innovative ordering platforms, including Google Home, Facebook Messenger, Apple Watch, Amazon Echo, Twitter and text message using a pizza emoji. In late 2015, Domino's announced the design and launch of the DXP®, a purpose-built pizza delivery vehicle, as well as Piece of the Pie Rewards™, its first digital customer loyalty program.
About Liberty Property Trust
Liberty Property Trust is a leader in commercial real estate, serving customers in the United States and United Kingdom through the development, acquisition, ownership and management of superior office and industrial properties. Liberty's 98 million square foot portfolio includes 558 properties which provide office, distribution and light manufacturing facilities to 1,200 tenants.
About Cushman & Wakefield
Cushman & Wakefield is a leading global real estate services firm that helps clients transform the way people work, shop, and live. Our 45,000 employees in more than 70 countries help occupiers and investors optimize the value of their real estate by combining our global perspective and deep local knowledge with an impressive platform of real estate solutions. Cushman & Wakefield is among the largest commercial real estate services firms with revenue of $6 billion across core services of agency leasing, asset services, capital markets, facility services (C&W Services), global occupier services, investment & asset management (DTZ Investors), project & development services, tenant representation, and valuation & advisory. 2017 marks the 100-year anniversary of the Cushman & Wakefield brand. 100 years of taking our clients' ideas and putting them into action. To learn more, visit www.cushwakecentennial.com, www.cushmanwakefield.com or follow @ (http://www.twitter.com/cushwake)CushWake on Twitter.
-END-
Source :
Cushman & Wakefield