"Main & Main" Retail Center Trades for $21.25 Million in Livingston, N.J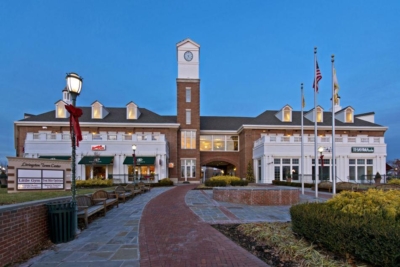 Press Release (ePRNews.com) - PARAMUS, N.J. - Apr 24, 2017 - The Azarian Group of Midland Park, NJ has purchased Livingston Town Center, a 65,000-square-foot, "Main & Main" downtown lifestyle retail property in Livingston. Cushman & Wakefield's (http://www.cushmanwakefield.com/) Metropolitan Area Capital Markets Group arranged the $21.25 million trade from a joint venture of Onyx Equities and Lubert Adler.
Located at the intersection of North Livingston Avenue and Mt. Pleasant Avenue (Route 10), Livingston Town Center houses a diverse tenant mix including 28 convenience stores, restaurants and service retailers, among other categories and is 96% occupied. Fan Bistro, a high-end Asian restaurant, Restore Cold Pressed Juices, an organic juice bar and Dentistry with a Smile are among recent additions. Fit 36 and Xtend Barre will be opening soon.
"Livingston Town Center occupies a prime location in one of Northern New Jersey's most desirable residential communities, and is part of a successful town center concept that also includes 114 upscale residential units," said Cushman & Wakefield's David Bernhaut. "Its best-in-class curb appeal and complementary tenant mix distinguish the property within its competitive set. At a time when investors continue to chase high-quality retail, this offering was very well received."
Bernhaut headed the property marketing with Metropolitan Area Capital Markets team members Andrew Merin, Gary Gabriel, Brian Whitmer, Nick Karali and Seth Pollack. John Alascio and Sri Vankayala of the commercial real estate services firm's Equity Debt and Structured Finance Group arranged the purchase financing.
Livingston Town Center was built in 2006 and acquired by the Onyx/Lubert Adler joint venture in 2011. That ownership improved traffic flow, increased occupancy, improved the tenant mix, secured a liquor license and expanded zoning to include additional retail uses.
"Onyx and Lubert Adler repositioned Livingston Town Center as a destination shopping center – with great success," Whitmer said. "Now The Azarian Group has a fantastic opportunity to leverage the property's infill location to increase value through property improvements and the market's strong leasing momentum."
Pollack added that the property's prime location at a highly trafficked intersection in one of the wealthiest townships in New Jersey has been a key to its progress. North Livingston and Mt. Pleasant avenues offer a combined traffic count of more than 45,000 vehicles per day, and the neighborhood offers a population density of 2,590 persons per square mile within a five-mile radius. Livingston boasts an average household income of $173,223 and a median home value of $528,118.
Based in East Rutherford, New Jersey, Cushman & Wakefield's Metropolitan Area Capital Markets Group specializes exclusively in investment sales of office, industrial, multifamily, land and retail properties throughout New Jersey, New York, and Fairfield County, Connecticut. The team has completed more than $25 billion worth of transactions since 2000, closing over $3.2 billion in sales in 2016.
###
About Cushman & Wakefield
Cushman & Wakefield is a leading global real estate services firm that helps clients transform the way people work, shop, and live. Our 43,000 employees in more than 60 countries help investors and occupiers optimize the value of their real estate by combining our global perspective and deep local knowledge with an impressive platform of real estate solutions. Cushman & Wakefield is among the largest commercial real estate services firms with revenue of $5 billion across core services of agency leasing, asset services, capital markets, facility services (C&W Services), global occupier services, investment & asset management (DTZ Investors), project & development services, tenant representation, and valuation & advisory. To learn more, visit www.cushmanwakefield.com or follow @CushWake (http://www.twitter.com/cushwake) on Twitter.
About Onyx Equities, LLC
Headquartered in Woodbridge, New Jersey, Onyx Equities, LLC is a leading private real estate investment, management and development firm. Since its founding in 2004, Onyx has acquired more than $2 billion worth of real estate assets throughout New Jersey, New York, Pennsylvania and Connecticut. Onyx has invested over $80 million in capital improvement projects under its signature, asset repositioning program. The firm has more than 60 million square feet worth of property management experience, across all property types. Onyx's Receivership and REO portfolio extends across 10 states throughout the East Coast and South East. Driving Onyx's success is its custom-developed technology platform that allows on-site and regional management teams to increase operational efficiency, tenant satisfaction and long-term value throughout its portfolio. For more information contact the firm at 732-362-8800, or visit www.onyxequities.com.
-END-
Source :
Caryl Communications