Cushman & Wakefield Marketing 173-Acre Development Parcel in Haverstraw, N.Y
Township as Owner Welcomes a Myriad of Uses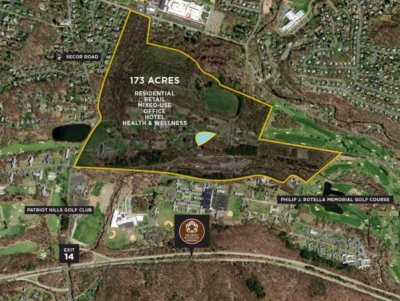 Press Release (ePRNews.com) - ROCKLAND COUNTY, N.Y. - May 11, 2017 - Cushman & Wakefield's Metropolitan Area Capital Markets Group has brought to market a 173-acre development parcel in the Town of Haverstraw.
Known as Letchworth Village, the property is located at 100 Secor Road in the heart of Rockland County. Offering a bucolic setting just off Exit 14 of the Palisades Interstate Parkway and 12 minutes from the Tappan Zee Bridge, the site is owned by the Town of Haverstraw.
"Municipal officials are enthusiastic about the potential of this property and open to working with developers to explore a variety of future uses," noted Cushman & Wakefield's Brian Whitmer, who is heading the assignment with Metropolitan Area Capital Markets Group team members Andrew Merin, David Bernhaut, Gary Gabriel, Les Smith and Ryan Dowd.
"The offering represents a rare and distinctive opportunity to acquire a contiguous critical mass of land for development in the Greater New York Metropolitan area," Whitmer added. "The location truly is unmatched."
In addition to its proximity to the Palisades Interstate Parkway, the property offers easy access to routes 202 and 9W. It is just 15 minutes from the Haverstraw Commuter Ferry with connections to Metro-North Railroad, and five minutes from express bus service to New York City.
The Letchworth Village site also sits between two championship golf courses (Philip J. Rotella Municipal Golf Course and Stony Point's Patriot Hills Golf Course), with local shopping including ShopRite, CVS, New York Sports Club and other major national retailers nearby. Further adding to the site's appeal is its proximity to the Haverstraw Marina, one of the largest marinas on the East Coast, offering 60 tree-lined acres, 1,000 slips and fine waterfront dining.
In 2006 a site plan was approved to construct a 500-unit, age-restricted community with single family residences, townhouses and condominium flats, along with recreation facilities and nearly 25,000 square feet of neighborhood retail on the site. Although these approvals are still in place, the town understands the current needs of the development community and will work with developers to maximize the site's potential.
FEIS and SEQRA have previously been completed for Letchworth Village, potentially saving the developer millions of dollars in engineering and review costs.
Based in East Rutherford, N.J., the Metropolitan Area Capital Markets Group specializes exclusively in investment sales of office, industrial, multifamily, land and retail properties throughout New Jersey, New York, and Fairfield County, Connecticut. The team has completed more than $25 billion worth of transactions since 2000, closing over $3.2 billion in sales in 2016.
###
About Cushman & Wakefield
Cushman & Wakefield is a leading global real estate services firm that helps clients transform the way people work, shop, and live. Our 43,000 employees in more than 60 countries help investors and occupiers optimize the value of their real estate by combining our global perspective and deep local knowledge with an impressive platform of real estate solutions. Cushman & Wakefield is among the largest commercial real estate services firms with revenue of $5 billion across core services of agency leasing, asset services, capital markets, facility services (C&W Services), global occupier services, investment & asset management (DTZ Investors), project & development services, tenant representation, and valuation & advisory. To learn more, visit www.cushmanwakefield.com or follow @CushWake (http://www.twitter.com/cushwake) on Twitter.
Source :
Cushman & Wakefield